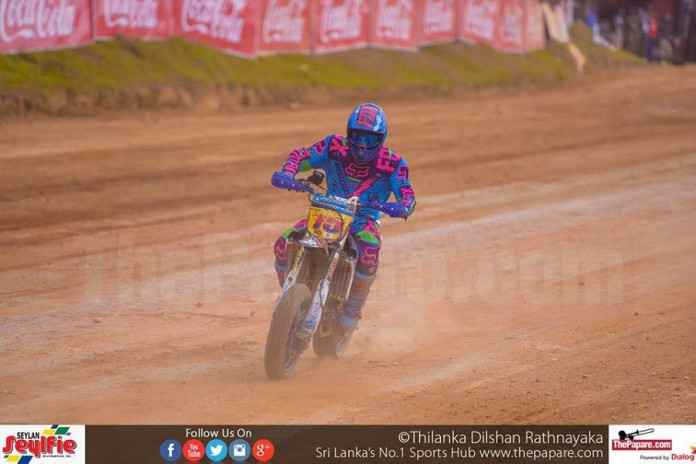 Sudarshana Peiris
The flamboyant rider and a pioneer in motor bike racing in Sri Lanka Ananda Wedisinghe has passed away aged 47 years  today (29th) at the Kandy General Hospital.
Wedisinghe was involved in a crash during the Group SM 450cc event at the Nuwara Eliya road races on the 24th April 2017. He was in a coma since and was supported by life support machine from the time he was transferred to the Intensive Care Unit (ICU) of the Kandy Genaral Hospital.
The incident took place during the Nuwara Eliya road races oragnised by Sri Lanka Motor Cycle club which has come under criticism as the safety measures taken to avoid unfortunate incidents like this has been reported as being below par. In 2008 driver Dilshan Bandaranayake faced a similar incident in his Austin mini which was fatal.  It is reported that Wedisinghe has been kept unmoved at the placve where the accident happened for over 20 minutes before he was taken to the hospital by a fire brigade ambulance as the oragnizers had not made arrangements for an ambulance with trained medical personnel to be at the race.   It is also shocking to note that the corner marshal where the incident happened did not have a communication set and the eventual winner of the race had communicated the accident to the authorities in person.  
Unfortunate incident that cost Ananda Wedisinghe his life – https://www.facebook.com/tishan.rathnayaka/videos/1164959266980548/
The Wedisinghe family and his close friends have been making a valiant effort to raise funds in order to transfer the legendary rider to Japan where his Japanese wife Rumi and the kids reside as they belived Wedisinghe's critical condition could be treated better in Japan.
A rider who dazzled the crowds be it the dirt track, tarmac or the road races Ananda Wedisinghe is a household name in the racing community. Known for his extraordinary stunts which attracted eager fans for him from around the country for the passion he showed on the track. He was also adored by the motor racing fraternity as a kind hearted fun loving character as there was never a dull moment when he was around.
A Sri Lankan racing legend who had a knack for living on the edge had the below as his cover on his twiiter handle and is sure to bring a tear to anyone who had known this wonderful human being

Many of the Sri Lankan riders and drivers have taken to social media to express their shock and grief regarding Wedisinghe's passing.
Ananda uncle was a racing legend and it is a great loss for the racing field, he was a person who we looked up to growing up and was always such a kind hearted gentleman.
Ishan Dassanayake , National MX champion
Former national Mx champion Gayan Sadaruwan mentioned that he learned so many things from the legend
National rally car champion Ushan Perera billed that "the legends never die"