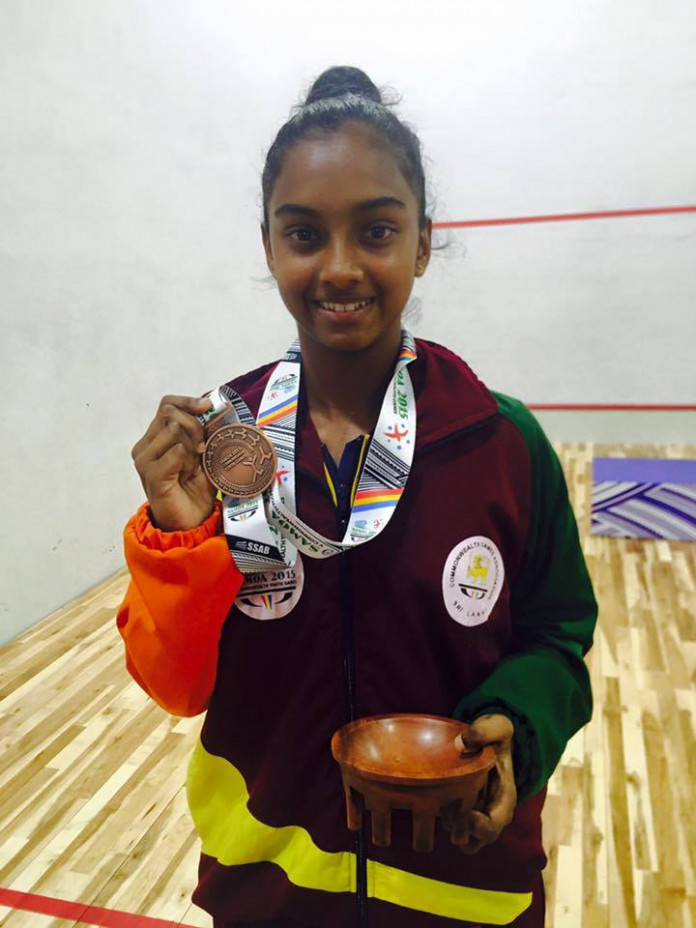 The Youth Commonwealth Games is currently on going in Samoa with the participation of 1000 young athletes with in the age category 14-18. They will compete for 107 gold medals over nine disciplines within the five days.
Mihiliya Methsarani representing the island nation in Squash won the Bronze medal in the women`s singles event which was held yesterday.Mihilya was matched up against Carrie Halam of Scotland in her preliminary rounds where she won the match three sets to zero. She saw off Carrie eleven points to six during the first set and continued her form beating her eleven points to one and eleven points to two in the first and the second sets respectively.
Mihilaya placed herself in the quarter final stage and was matched up against Mari Taylor from Great Britain. Mihilya putting up her A grade performance won the match three sets to zero and qualified herself to the other round. Mihilya beat Taylor eleven points to nine in the first set. Taylor who was under pressure suffered humiliating losses in the other two rounds as Mihilya beat her eleven points to three and eleven points to four respectively.
Mihiliya saw off Sadia Gul from Pakistan in the women`s final (Bronze Medal) three sets to zero. Sadia Gul lost her touch as she was beaten eleven points to eight; eleven points to seven in the second set. Gul did bounce back into the game strong arming Mihilya; but experienced islander beat her fourteen points to twelve in the final set.
The Bronze medal winner was place in the semi-final stage to compete for supremacy of Gold and Silver afterwards. Mhilya Methsarani was matched up against Sivasangi Subrahamaniam from Malaysia which was bit of a tough ask. Milhilya failing to play her normal game lost the match three sets to zero and she bidding farewell to her dream of gold. Sivasangi won the three sets eleven points to three, eleven points to five and eleven points to three.
ThePapare.com congratulates Mihiliya Methsarani on her achievement.