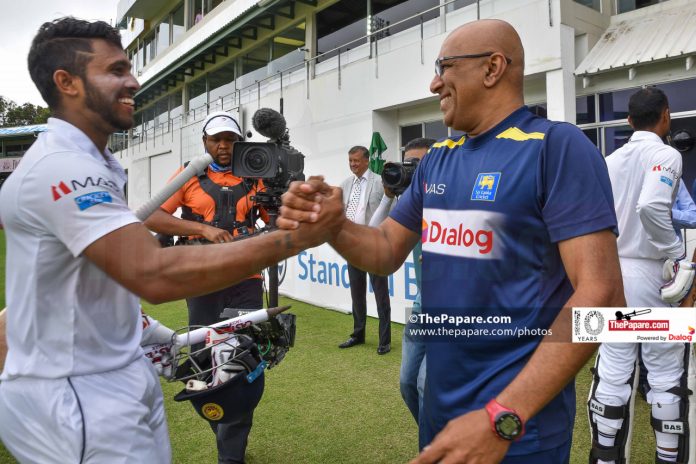 Having finished 2018 with flying colours as the second highest run getter in the world behind Virat Kohli, Kusal Mendis wants to complete the four figure mark in 2019 as well in Test cricket. The 24-year-old had a spectacular 2018 where he finished with 1023 runs including three hundreds and five fifties. This year, it has been not great going as he has only managed 175 runs after eight innings. However, his unbeaten 84 in Port Elizabeth on Saturday won him the Man of the Match award as Sri Lanka sealed a 2-0 series win over the Proteas.
Rex Clementine in Port Elizabeth
"There's been not much runs after four games but still we have seven Test matches left this year. I want to get to that 1000 run mark again and  be consistent. If I can't get there, I will try to get closer."
There was quite a bit of banter during the innings as Mendis exchanged a few words with Dale Steyn. But he wasn't distracted and his approach playing Steyn's first over of the day proved to be a huge turning point in Sri Lanka securing an eight wicket win.
On day three with Sri Lanka requiring 137 runs to win, South Africa opened up with Kagiso Rabada and Duanne Olivier with Steyn coming as first change. Mendis smashed three boundaries in one over off the greatest fast bowler in this generation to put the great man under pressure. Soon Francois Du Plessis spread the field and Sri Lanka were content in picking up the singles.
"I am really thrilled with the effort against this extremely good South African attack. They are always on the money and a huge challenge to score off them especially earlier on. There was lot of stuff said out in the middle and you just need to focus on the job at hand without getting distracted. I exchanged a few words with Dean Elgar. Then Steyn chipped in. I reminded Steyn that it was Elgar who started it. But that's all part and parcel of the game. They are a good bunch of guys. They were quick to congratulate me after the win. They play hard but fair and great ambassadors for the sport."
Mendis has received the full backing of the coaching staff despite his form dipping at times. Port Elizabeth was an opportunity for him to show why people back him so much. "After I was dropped for the tour of India in 2017, the Head Coach picked me when he took over as the job. He has been giving lot of confidence. We have had our disagreements but as a coach he has been a great asset for me," said Mendis.