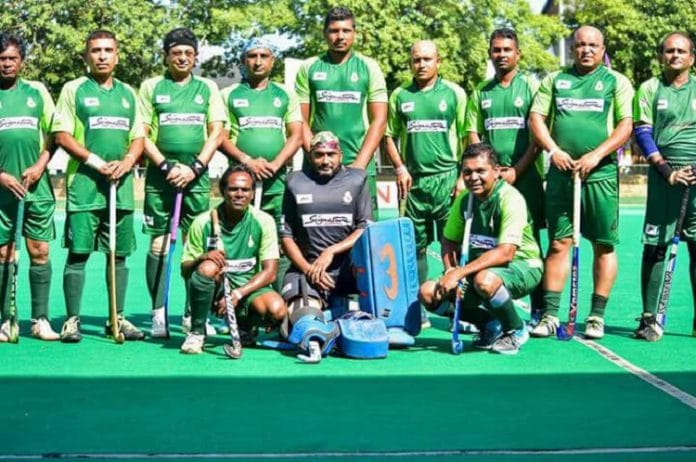 The Masters Hockey League concluded successfully this evening at the Colombo Astro Turf. This was the inaugural event of it's kind and more than 100 ex-national stickers from different provinces came together.
In the Group 'A' after some very tight games, Uva Rinos became the group champions. Both Colombo Wolves and Matale Wipers teams were beaten by Uva Rinos in the group 'A' matches. However, the Mercantile Spiders was another strong team playing in group 'A' and they were able to qualify for the next round by beating the Colombo Wolves.
Group 'B' was the toughest group in the tournament since there were many experienced stickers who have represented the national team. Colombo Dragons played an extremely balanced game throughout the tournament and a fast game compared to other teams. They were able to take an easy win in their group and become group champions by beating the Colombo Tuskers, Kandy Lions and Matale Panthers. However, the Kandy Lions became group runners-up after a very tight game.
The first of the final matches which took place after the lunch break was between the Colombo Wolves and Matale Panthers. It was a very exciting game and a close tussle as both sets of players mainly focused on their offensive aspects. At half time, the teams had obtained one goal each. As the second half began, Mulafer added the winning goal for the Matale Panthers team and the full time score was 2-1 in favour of the  Matale Panthers which made them the Shield category winners.
The Bowl category final match took place between the Matale Vipers and the Colombo Tuskers. Both the teams were struggling in the first few minutes to obtain a goal with all attacking strategies failing. However, the defenses were very good in both and Pravine Chanaka of the Colombo Tuskers scored a goal against the opponents and helped his team become the bowl category champions.
In the Plate final match, the Mercantile Spiders were beaten by the Kandy Lions and the final score stood at 1-0.
The finale of the Masters Hockey League was for the Cup where  the  Uva Rinos took on the Colombo Dragons. From the start both teams played an excellent game where they displayed some skilled hockey and experienced tactics. Both offensive and defensive aspects were outstanding. However, Colombo Dragons were beaten by Uva Rinos in the end with a score of 1-0.