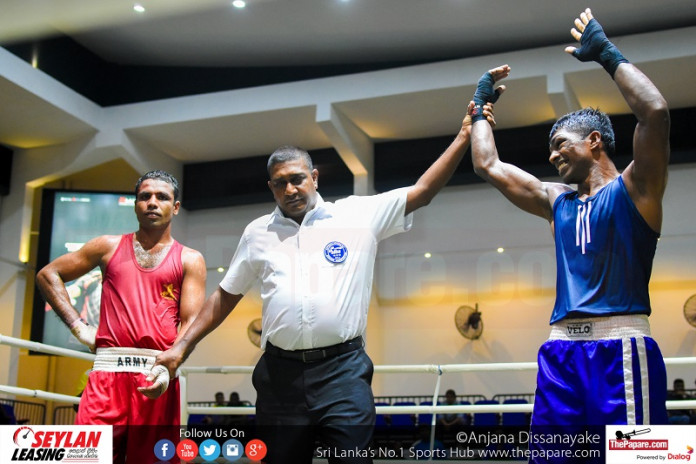 MAS Slimline managed to win the overall men's championship while MAS Unichela were named the women's champions in the BASL Clifford Cup Boxing Championship 2016.

Finals in all the weight categories went as scheduled on the last day (22nd October) of the tournament.

20 finals in total took place as 10 boxers, male and female were crowned champions.

Starting things off A.M.G.I. Bandara of the Sri Lankan Navy got the better of P.M.T.S. Ranasinghe of Hela Clothings.

The most entertaining match of the finals took place under the Men's light heavy weight category as J.P.M.M. Jayaweera of the Sri Lankan Army went head to head with G.T.R. Madusanka of MAS Slimline.

Jayaweera looked to have got the better out of Madusanka as the referee was made to make two counts of 8 as Madusanka was under the pump with Jayaweera landing some hefty blows in the first few rounds of the fight.

A stunning pep talk by the MAS boxers coach injected life in to Madusanka as he came back hard with some lusty jabs and hooks in the next couple of rounds to win an entertaining battle in the ring to take home the gold medal of the Men's Light Heavyweight category.

Madusanka's emphatic celebration did not please the Army support as it created a stir in the stadium but the authorities were able to calm the situation down and take proceedings forward from thereon.
The other results are as follows:

Women's Light Fly Weight

– A.A.K. Nilmini



Men's Fly Weight

– B.G.R.I. Warnasooriya



Women's Fly Weight

– J.A.D. Jayasinghe



Men's Bantamweight

– P.D. Suresh



Women's Bantamweight

– M.P.P.S. Cooray



Men's Lightweight

– O.S. Jayaweera



Women's Featherweight

– K.A.D. Dharmathilake

Men's Light Welterweight

– P.V.D.D.D. Saparamadu



Men's Welterweight

– R.G.S. Kumarasinghe



Women's Light Welterweight

– H.M.K.G.L. Udayangani



Men's Middleweight

– D.L.P.R. Kumara

Women's Welterweight

– P.C.K. Jayasekara

Women's Middleweight

– P.K. Sumudu

Men's Heavyweight

– G.A.N. Fernando 

Women's Heavyweight

– D.D.S. Weerarathna

Men's Super Heavyweight

– A.R.B.E. Thilakarathna

Women's Super Heavyweight

– J.A.S.I. Jayasinghe