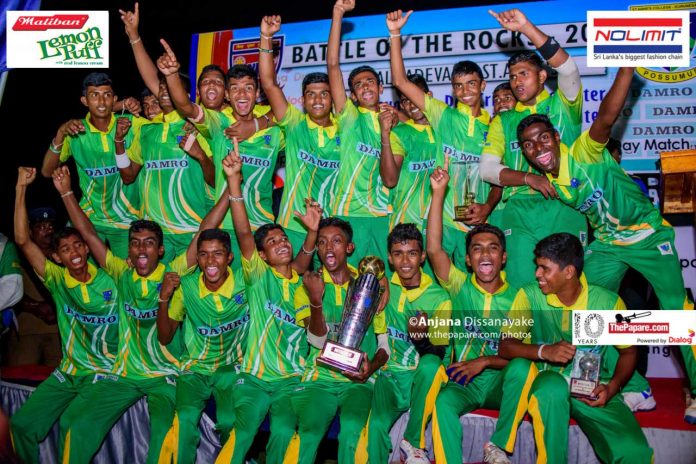 After a tame draw at the 35th Battle of the Rocks, St. Anne's College clinched a famous 6-run victory against arch-rivals Maliyadeva College in their 24th limited overs encounter at the Welagedara Stadium in Kurunegala on Sunday.
Batting first, the Annites posted a commendable 168 before being bowled out in the penultimate over of the innings. Kavindu Ekanayaka and Risitha Perera gave St Anne's College a decent start before Ekanayake returned a catch to Muditha Premadasa.
Pasindu Tennakoon top scored with 45 whilst Ekanayake, Pivithuru Fernando and Lasith Warnakulasooriya made valuable contributions for the Annites cause. In the bowling, Pasindu Tennakoon of Maliyadeva College picked up 3 wickets for 36 runs in his eight overs.
Photos: Maliyadeva College vs St. Anne's College | 24th One Day Encounter
Chasing a target of 162 Maliyadeva College was off to a fantastic start by Brian Karunanayake and Supun Sumanarathne as the pair posted a solid opening stand of 40 runs. Ekanayake was not willing to give up yet as the Maliyadeva top order returned three catches back to Ekanayake.
It looked as if Ekanayake was showing off his all-round skills to a packed house at the Welagedara Stadium. The Maliyadeva middle order couldn't handle the pressure as Pasindu Tennakoon joined the party picking up two important wickets, that of Viditha Batepola who looked promising with the bat and Chaluka Aththapattu.
The game went down to the wire, but two run outs cost the game for Maliyadeva College as the Annites clinched a nail-biting 6 run victory in the final over of the match.


Batsmen
R
B
4s
6s
SR
Kavindu Ekanayeka
c & b Muditha Premadasa
32
35
1
1
91.43
Risitha Perera
c Chaluka Ajhadaththu b Maduranga Naveen
19
38
5
0
50.00
Sulashana Madusitha
c & b Maduranga Naveen
3
16
0
0
18.75
Lasith Warnakulasooriya
b Muditha Premadasa
23
40
3
0
57.50
Pasindu Thennakoon
run out
45
102
2
0
44.12
Kavindu Ranasinghe
c & b Viditha Batepola
2
5
0
0
40.00
Creshantha Priyathilaka
c Muditha Premadasa b Chaluka Ajhadaththu
1
4
0
0
25.00
Pivithu Fernando
st Muditha Premadasa b Pasindu Thennakoona
29
53
2
0
54.72
Thrimalsha Silva
c Supun Sumanarathna b Pasindu Thennakoona
2
4
0
0
50.00
Maayaas Muzammil
c Kaveen Bandara b Pasindu Thennakoona
1
2
0
0
50.00
Kalindu Wijesingha
not out
0
0
0
0
0.00
| | |
| --- | --- |
| Extras | 11 (b 2 , lb 0 , nb 1, w 8) |
| Total | 168/10 (49.4 Overs, RR: 3.38) |
| Bowling | O | M | R | W | Econ |
| --- | --- | --- | --- | --- | --- |
| Viditha Batepola | 7 | 0 | 19 | 0 | 2.71 |
| Brian Karunanayaka | 2 | 0 | 16 | 0 | 8.00 |
| Pasindu Thennakoona | 8.4 | 0 | 36 | 3 | 4.29 |
| Chaluka Ajhadaththu | 10 | 0 | 17 | 1 | 1.70 |
| Jayamin Muthukumarane | 9 | 0 | 24 | 2 | 2.67 |
| Kaveen Bandara | 4 | 0 | 13 | 0 | 3.25 |
| Maduranga Naveen | 9 | 0 | 41 | 3 | 4.56 |


Batsmen
R
B
4s
6s
SR
Supun Sumanarathna
c Kalindu Wijesingha b Sulashana Madusitha
20
39
1
1
51.28
Brian Karunanayaka
c & b Kavindu Ekanayeka
34
81
3
0
41.98
Muditha Premadasa
c & b Kavindu Ekanayeka
18
33
1
0
54.55
Jayamin Muthukumarane
c & b Kavindu Ekanayeka
22
32
3
0
68.75
Kaveen Bandara
lbw b Pasindu Thennakoon
4
5
1
0
80.00
Chaluka Athapaththu
st Creshantha Priyathilaka b Pasindu Thennakoon
4
4
0
0
100.00
Viditha Batepola
b Pasindu Thennakoon
24
36
3
0
66.67
Nisanjaya Hettiarachchi
run out
11
25
0
0
44.00
Gayantha Wickramaarachchi
b Kalindu Wijesingha
11
22
0
0
50.00
Maduranga Naveen
not out
6
18
0
0
33.33
Pasindu Thennakoona
run out
0
1
0
0
0.00
| | |
| --- | --- |
| Extras | 8 (b 0 , lb 1 , nb 0, w 7) |
| Total | 162/10 (49.2 Overs, RR: 3.28) |
| Bowling | O | M | R | W | Econ |
| --- | --- | --- | --- | --- | --- |
| Lasith Warnakulasooriya | 10 | 1 | 34 | 0 | 3.40 |
| Risitha Perera | 3 | 1 | 10 | 0 | 3.33 |
| Sulashana Madusitha | 8 | 1 | 19 | 1 | 2.38 |
| Kalindu Wijesingha | 5.2 | 0 | 16 | 1 | 3.08 |
| Pasindu Thennakoon | 9 | 1 | 34 | 2 | 3.78 |
| Kavindu Ekanayeka | 10 | 1 | 36 | 4 | 3.60 |
| Kavindu Ranasinghe | 3 | 0 | 10 | 0 | 3.33 |
| Maayaas Muzammil | 1 | 0 | 2 | 0 | 2.00 |