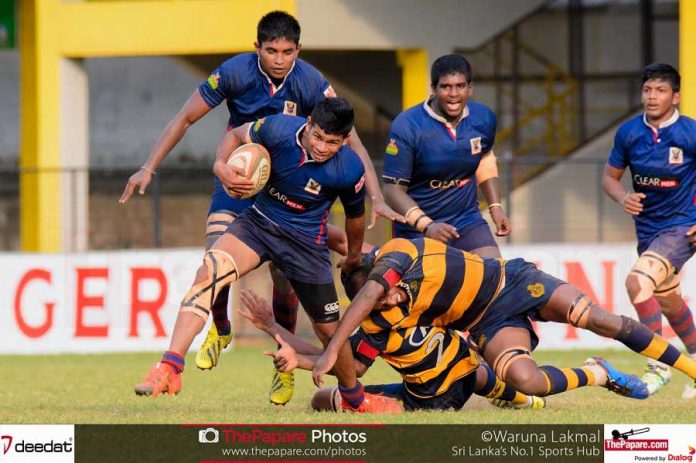 Kings from the Randles hill secured their first win of the Singer Schools' Rugby League 2018 against S.Thomas' Mount Lavinia at Digana stadium, up in the hill capital city of Kandy. 
Kingswood ran away with the game from the kick off, as their backs were at another level compared to the S.Thomas' backs. Initially both teams failed to score any points, although the attacks soared from one end to the other in quick succession. However, at the end of the allocated 70 minutes, Kingswood won 24 points to 05, having led 19-5 in the first half of the match.
Tharindu Waligampola, the captain scored the first points of the game for Kingswood, leading the way from the front. The scrum half put Waligampola into space from the base of the ruck to dive under the posts. Sampath converted easily. (KCK 07-00 STC)
Minutes later, the try of the game was scored by the bulky center S. Senevirathne. The Kingswood captain broke away from the back of the scrum and handed the ball to Senevirathne who evaded almost all of the Thomian back line, stepping from right to left before diving over the white wash. Sampath managed to put the conversion through from the base. (KCK 14-00 STC)
J. Perera pulled one back for the Thomians to make things interesting. Thomians used their forwards to good use, picking and driving from 22m to the try line straight down the line. The kicker sent it slightly wide of the left upright. (KCK 14-05 STC)
Dinal Ekanayake then dove into the left corner flag to put the Kingswoodians clear of two scores. Asiri Senevirathne, the fly half, played a vital role in the creation of the try as he drew in the defence and sent the ball wide over top to the outside center who sent it directly to Dinal, the full back, joining the line to attack. Sampath missed the conversion from the flanks. (KCK 19-05 STC)
Half Time: Kingswood 19 (3T 2C) – 05 (1T) S. Thomas'
The second half proved to be rather dull when it came to the scoring of points with only a sole try being scored through the hands of B. Ekanayake who sprinted past the back line into the corner with none to catch him. Asiri Senevirathne missed the conversion. (KCK 24-05 STC)
S.Thomas' had plenty of opportunities to score in the second half but the Kingswood defence held together with some assistance from the Thomian handling. The referee blew the long whistle to bring the game to an end after playing about two minutes of extra time.
Full Time: Kingswood 24 (4T 2C) – 05 (1T) S. Thomas'
ThePapare.com's player of the match : Asiri Senevirathne
Kingswood – Tharindu Waligampola (1T), Sachintha Senevirathne (1T), Dinal Ekanayake (1T), B.Ekanayake (1T), N.Sampath (2C)

S.Thomas – J.Perera (1T)