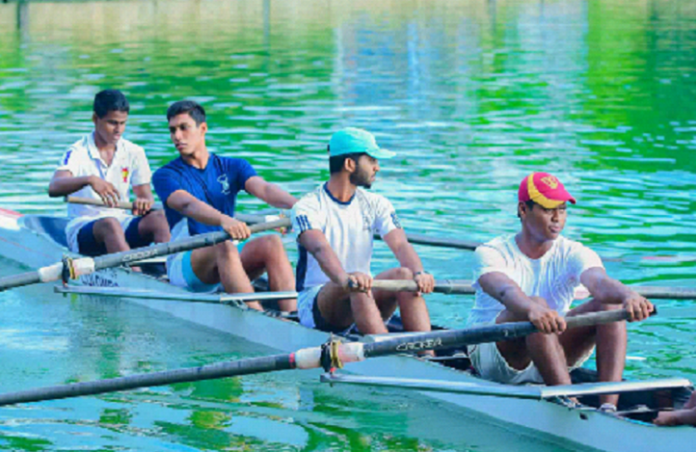 The annual Ranfer sprint rowing regatta, conducted by the Colombo rowing club, concluded successfully for the 28th time at the Colombo Rowing Club on Saturday(1st). The chief guest at the closing ceremony was Mrs. Dilani De Silva while Mr. Rohan Fernando was present at this event as the guest of honour. Further, Principal sponsor Ranfer teas and its chairman Mr. Nirmal Ranasinghe was also present at this event. Seven men's teams and five women's team competed for the championship; 96 rowers took part at the regatta in sculls, pairs and fours events.
The men's sculls finals were won by Hashen Hettigoda of Royal College while Nihara Warawita of Ladies' College won the women's category sculls finals. In the men's pair final Abdhulla Hassen (Stroke) and Vibhawa Premarathne (Bow) were placed first. The women's pair final was won by Ishara Abbey (Stroke) and Davina Koch (Bow) of Ladies' College. The final event at the regatta which was the men's and women's fours finals was won by Royal College and Ladies' College. Royal College fours team comprised of Jeshan Hapugalle, Charin Wijethileke, Sajaad Ajmal, Prathap Perera and Avishka Jayaweera while the Ladies' College fours team included Shannon Perera, Ashvini Subasinghe, Kavishka Dassanayake, Dihanie Amerasinghe and Thiranya Abeyrathne.
Royal College proved to be too strong on the sculls and fours, clinching both events to edge CRC, who managed to win the pairs event. Royal college proved its dominance in the water by leading from the start in the final race.
In the women's final, Ladies College dominated the event by winning all races; they had a few tough races in which Ladies' College 'B' crew and Bishops' College were a close second.
Royal College won the overall championship in the men's category at the 28th Ranfer sprints rowing regatta by obtaining 40 points. Colombo Rowing Club was lucky enough to get 19 points at this event. In the women's category, the overall championship was taken by Ladies' College by obtaining 59 points.