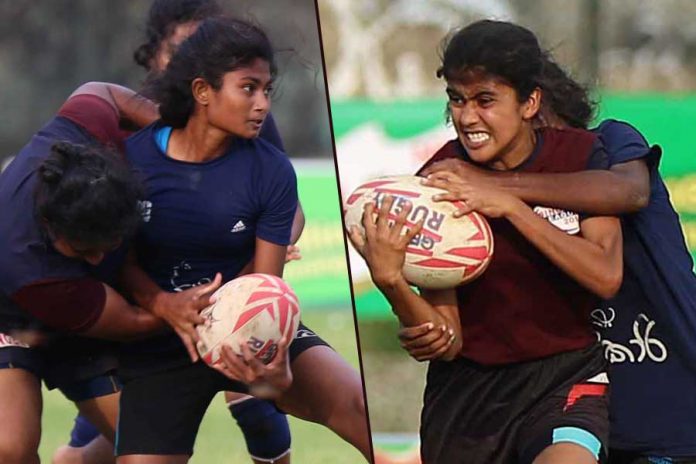 The Milo 7-A side Girls rugby tournament finished on the 24th and 25th of this month with Kuliyapitiya Central College and Ginthota Maha Vidyalaya emerging victors. Ginthota MV won the U14 and U18 categories while Kuliyapitiya Central won the U16 and U20 categories. The tournament was held at the Ruwanwella public grounds at Ruwanwella.
The all-important U20 Girls category title went to Kuliyapitiya Central. They defeated Bandaranayake girls Ampara by 19 points to nil. On their way to the final they defeated Dehiowita National School 10-00 and St.Mary's College Avissawela by the same margin as well. The penultimate age category consisted of only two groups where the two schools who managed to top the two groups met in the final.
In the U14 category there were a total of 10 teams grouped into 4 groups. Eventually the groups were won by Ginthota MV, Kalunthenna MV Kandy, Bandaranayake girls Ampara and Pallekalugalla MV. Ginthota and Pallekalugalla MV made it to the finals in which Ginthota stole away the victory by a single converted try to none. The Plate, Bowl and the Shield finals were won by Kalunthenna MV, Ududumbara MV. A and D.B.Welagedara College.
U16 category composed of 8 groups with a total of 21 teams battling it out for victory. After a tough encounter Kuliyapitiya Central won the category eventually defeating Pallekanugala MV in the final 7 points to nil. Dehiowita won the plate finals via a coin toss as Bowl and the Shield titles were won by Anuraddha Balika Dematagoda and Dewapathiraja College Rathgama.
The Ginthota U18 school girls won their category defeating Pallekanugala MV in the final. The Plate, Bowl and the Shield titles were clinched by Panduwasnuwara MV, Dehiowita and Weerakappitipola respectively. Only 8 teams took part across 4 age groups and due to this fact the quarter finals took place without any group's matches being played.
The best players of this tournament will be picked out for trials in order to pick the national team for the U17 championships.