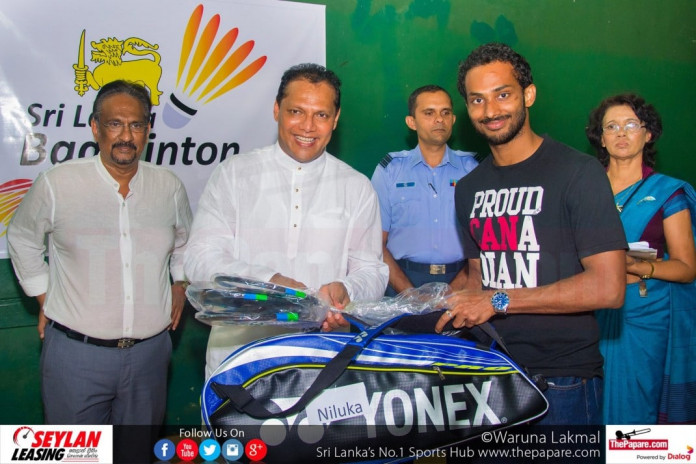 The Sri Lanka Badminton Association (SLBA) along with Yonex Sunrise distributed equipment and kits for 48 players and 8 coaches in celebrative fashion at the Sri Lanka Badminton Association playing courts in the presence of Hon. Minister of Sports Dayasiri Jaysekara.
The kits and equipment received as per the contract between Yonex Sunrise International and SLBA were distributed yesterday (5th) to national level badminton players and also included up and coming players in the schools and junior circuits.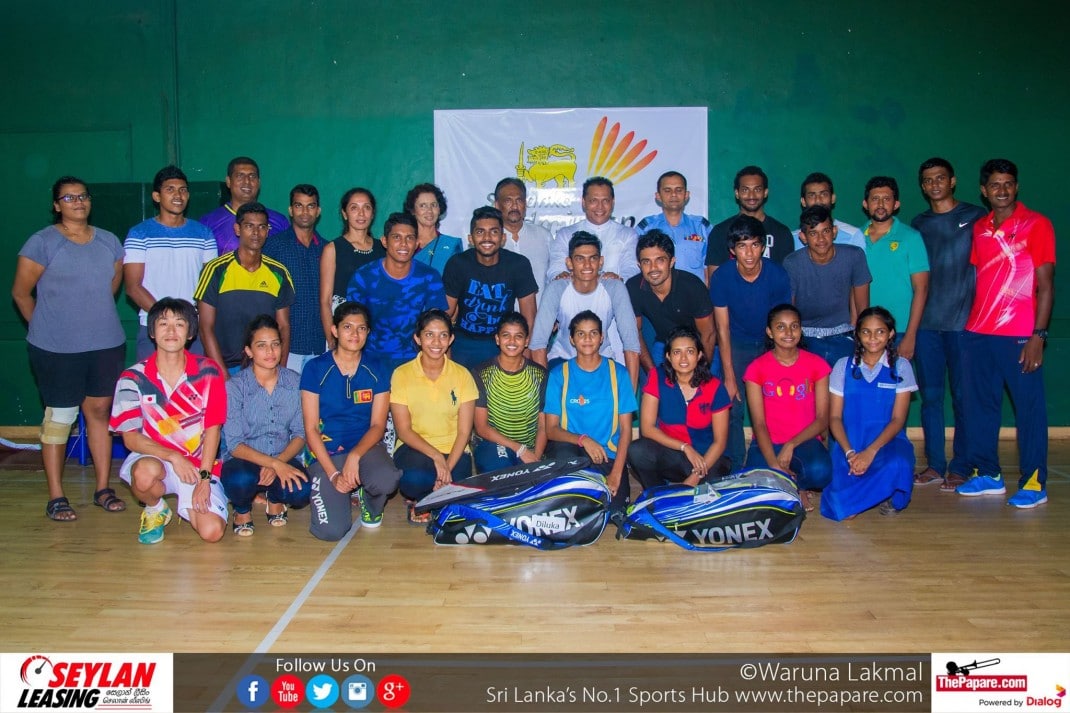 The national body in its vision to encourage talent retention in the national circuit distributed the valuable equipment giving prominence to the emerging players in order to encourage them to make their entrance to the higher levels. The equipment included rackets, shoes and clothing exclusively from Yonex Sunrise.
The criteria used to sort the eligible players was the national rankings with the top eight players both male and female being picked and also from the lower age group rankings based on their recent track record in both local and international circuits. A total of 48 players were shortlisted for the equipment and in addition, eight coaching personnel were also given the benefit of the contract.
Speaking at the awarding ceremony, Hon. Minister of Sport Dayasiri Jayasekara added that these benefits should motivate the players to continue playing and pointed out that any issues pertaining to the sport be brought to his notice so that the national body can work together to meter out a possible solution.
"We are also looking at establishing a national pool of badminton players and build courts at a regional base. I have got issues regarding players not turning up for practice and I hope these problems are sorted out and all of you continue your practices"
Players who received equipment:
Niluka Karunarathne,Dinuka Karunarathne,Buwaneka Gunathilake,Diluka Karunarathne,,Kavidi Sirimannage ,Thilini  Hendahewa,Chandrika de Silva,Achini Rathnasiri, Sachin Dias,Imesh Hasaranga,Vibavi Madusha,Supun Lankranga ,Aruna Senevirathna, ,Upuli Weerasinhe,Amali Amarashinhe,Nadeesha Gaynathi,Buthmi Galagamage, Chamika Karunaratne,Hasitha Chanaka,Tisara Nimmika,R.S. Dahanayake,Ranthushka Sasindu,Lahiru Madushan Weerasinghe,Promddya Ranaweera,Tharin Punchihewa, ,Hashini Ambalangodage,Kavishka Gunarathne,Madushika Dilrukshi,Gayana Samadhi Peiris,Geethmi Abeyrathne,Eshani Palihena,Dilmi Dias,Inuri Kuruppu,Sewmina Gunathilake,Thilina Gonapinuwala,Kasun Dharshana Amarasena,Tharindu Ambegoda,Madhuka Dulanjana,Resintha Ridma,Sachintha Pubudu Rajapaksha,Nadith Anushka , ,Hasara Chathumharie Wijayarathne,Thanushi Rathnayake,Amali Samaranayake,Lasanga Hettiarachchi,Kavindika Binari,Yashmitha Dayarathne,Bhagya Deemanthi,Ilmee De Silva