Indian national ITF pro circuit player Karunday Singh took home the second week Men's Singles title of the first ever Asian Tennis Tour as he defeated fellow Indian national Kunal Anand 6-1, 6-2 in the final.
The event kicked off on the 9th of January and the second week of the Men's competition concluded yesterday.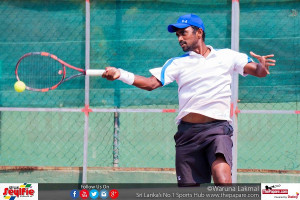 Sri Lanka fielded in four players in the main draw; Dineshkanthan Thangarajah, Yasitha De Silva, Vibuda Wijebandara and Madusha Wijesooriya.
Sri Lanka's Yasitha De Silva and Dineshkanthan Thangarajah were the only players to record victories in the first round but could not go beyond the second. Dineshkanthan lost to the week winner Karunday Singh 6-2, 6-1.
With this, the two Men's weeks come to a conclusion with both legs going in favour of the Indians; it was Suraj Prabodh who won the 1st Week.
Photo Album: Asian Tennis Tour – Week 2 Men's
The Asian Tennis Tour Week 3 which is the 1st week of the Women's series will commence today and is expected to conclude on the 18th. The fourth and penultimate week will commence on the 20th.