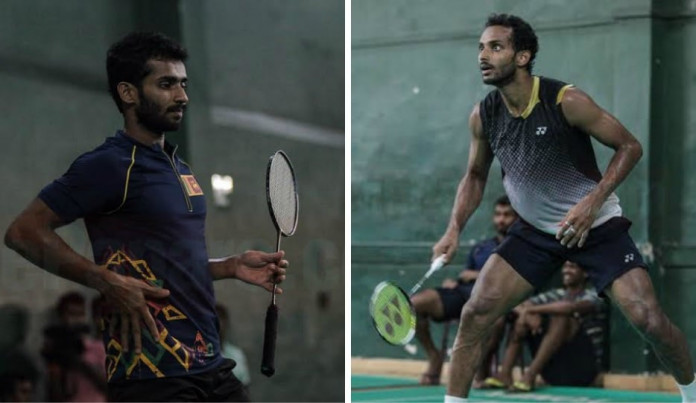 The FORZA Prague Open 2016 commenced on Wednesday 28th September this year and our Sri Lankan shuttlers Niluka and Dinuka Karunaratne competed at the tournament which sadly, did not pave the way towards a successful win.  Yesterday was the final day of the Open which is being held at the Sportovni hala Kralovka in Prague, Czech Republic.
On Day 1 (28), both shuttlers were scheduled to compete at the Men's Doubles (MD) against shuttling duo from the host country, Dean Brabek and Jan Vorlik. The Sri Lankans opened up with a successful round and scored well against the Czechs with scores of 21-14 and 21-13.
On Day 2 (29), the Sri Lankan shuttlers again rounded up with successful scores at the MD against the Danish duo Mads Emil Christensen and Rasmus Rylander with scores of 21-14 and 21-11. The first sibling to commence his Men's Singles (MS) round was Dinuka, who competed against shuttler Eetu Heino from Finland. Dinuka recorded a good two rounds with scores of 21-18 and 21-16 defeating his opponent in the process.
On the same day, the duo got back on the MD saddle against Russian players Rodion Alimov and Vasily Kuznetsov and overpowered the Russians with scores of 21-13 and 21-19. Unfortunately, with Niluka starting out on his MS session with Czech shuttler Milan Ludik, his opponent got the better of him, scoring two rounds of 21-19 and 21-17 respectively.
On the third day of the tournament, the Sri Lankan players had it busy with Dinuka competing in the MS against Thomas Rouxel from France, who overpowered Dinuka, placing the scores at 21-18 and 21-13 but in his next match opposite American shuttler Bjorn Seguin, Dinuka got the better of his opponent with scores of 21-12 and 21-18.
Unfortunately, the MD round with Swedes Richard Eidestedt and Nico Ruponen spelled the end of the tournament for the Sri Lankan duo as they were beaten to scores of 21-15 and 21-12 yesterday. Today (01) is the final day of the tournament.