Kandy Sports Club kept their early momentum in the Dialog Rugby League going as their forwards guided them to a tough win over the challenging CR & FC outfit in their encounter played at Nittawela this evening. At half time it was a deadlock at 14 points each but at the end of the 80 minutes Kandy won the game 41 points to 30.
The Dialog Rugby League has kicked off, and SURPRISE..
Nigel Ratwatte kicked off the big clash at a packed Nittawela stadium with perfect conditions for fast, open rugby and Kandy piled on the pressure from the start. The breakthrough came for Kandy when Tharinda Ratwatte missed a touch finder and Kandy attacked from their own red zone. Danushka Ranjan making a trademark sprint to the half way line and Nigel Ratwatte distributed the ball to the flanker Shehan Pathirana who found a hole in the CR defense line and went over to score under the post. Thilina Wijesinghe added extras easily. (7-0)
Read: Kandy crush a docile CR & FC
Kandy leaked a few penalties regularly and CR opted go for points after failing cross line in their previous attempts. Tharinda Ratwatte bisected uprights to open the scoring for the red shirts. Kandy's discipline was poor as they continued to concede penalties and Ratwatte continued his good kicking form as he added another three pointer. (7-6)
CR made a counter attack through Kevin Dixon as he went through the Kandy defense from the short side and was supported well by Joel Perera as CR managed to inch towards the try line. Fittingly Joel Perera scored near the corner flag to stun the Kandy outfit and their supporters. (7-11)
Kandy continued their poor work in the breakdown as their forwards were deemed offside this time as Tharinda Ratwatte obliged and slotted through a 48-meter penalty. (7-14)
The Kandy forwards finally got their act together as their rolling maul made valuable meters with the forwards dominating maul. Buwaneka Udangamuwa powered himself over the CR defense to score an important try for the hill capital team. Wijesinghe put over an easy conversion to equalize the game. (14-14)
Kandy had a kickable penalty but they opted to go for touch as their forwards were in good rhythm just before half time but a handling error by Kandy ended a fascinating first half of play.
Half Time –Kandy 14 (2T,2C) – 14 (1T,3P) CR & FC
Kandy forwards started the second half from where they left off before the break as their maul kept dominating with Yakoob Ali managing to sneaked in to score. Wijesinghe successfully made his conversion. (21-14)
Kandy forwards dominated the opening ten minutes as Buwaneka Udangamuwa continued his good work as he made all the hard yards and made a timely basketball pass to Danushka Ranjan and there was no stopping the star Centre as went over to increase the lead. Wijesinghe continued his good form as he kicked a perfect conversion from the touch line. (28-14)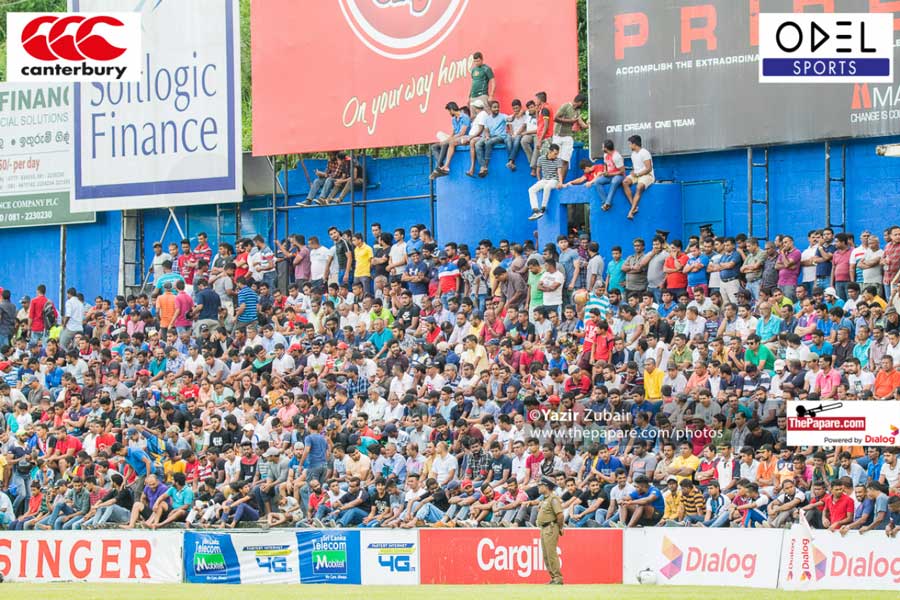 CR took some time to settle in as their forwards played more phases and finally their back scored when skipper Kavindu Perera committed two defenders towards him and offloaded the ball to Chamod Fernando to score in the corner. Ratwatte missed a difficult conversion. (28-19)
Ratwatte redeemed himself for that missed conversion as another 40 meter three pointer went over and a few minutes later he added another penalty to his count and to keep the red shirts in the game. (28-25)
Photo Album – Kandy SC vs CR & FC – Dialog Rugby League 2018/19 | #Match 16
Kandy continued to put on the pressure on CR defenders as CR gave away a few penalties. Kandy finally opted to kick for points and Wijesinghe managed to add the three points to reduce the pressure. (31-25)
In the dying stages of the game, the Kandy forwards continued their solid performance in attack through another rolling maul with Shashika Jayawardena breaching the CR line from the maul and powering himself over to score. Wijesinghe added the extras. (38-25)
>> Match Center – Kandy SC v CR & FC
CR managed to score quickly from the restart as Kevin Dixon gained good yards before Riza Raffaideen went over to keep the game alive. CR didn't go for the conversion as they tried to get another play in before the final whistle, but they yet again gave away a penalty in front of the sticks as Kandy managed to put the icing on the cake through a penalty from Thilina Wijesinghe as they kept their unbeaten tag alive. (41-30)
Full Time – Kandy 41 (5T,5C,2P) – CR & FC 30 (3T,5P)
ThePapare.com's Player of the match – Shehan Pathirana (Kandy SC)
Match Referee – Dinka Peiris
Breakdown
Kandy: Tries from Shehan Pathirana, Buwaneka Udangamuwa, Yakoob Ali, Danushka Ranjan and Shashika Jayawardena.  Conversion (5) and Penalties (2) by Thilina Wijesinghe

CR & FC: Tries from Joel Perera, Chamod Fernando and Riza Rafiideen Penalties by Tharinda Ratwatte (5)