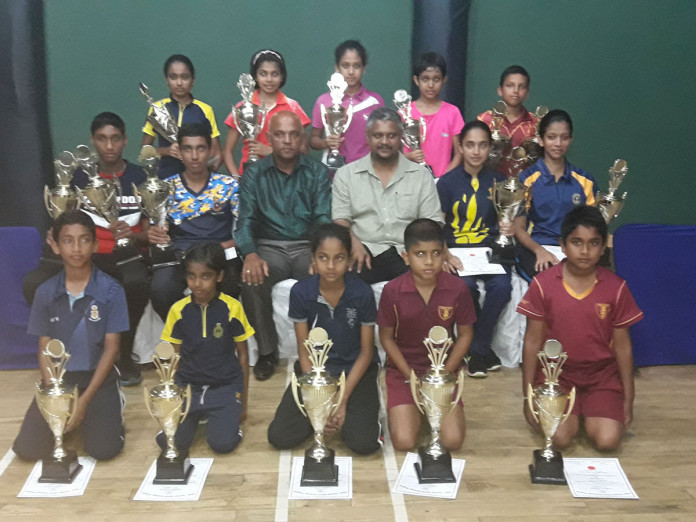 The top-seeded table tennis players in the under 18 division; Thanushi Rodrigo and Dinesh Kavisha emerged as winners of the girls and boys singles categories at the recently concluded All Island Open Junior Ranking Table Tennis tournament.
The ranking tournament organised in collaboration with the Kegalle District TT Association and the Asia/ German Sports Exchange Program took place at the Kegalu Vidyalaya Indoor Stadium with the participation of over 100 paddlers who were competing in age categories from under 10 to under 18.
The Vidyarthian Dinesh Kavinda defeated Chandupa Alahakoon of Kingswood College in the finals to take the under 18 boys title while Thanushi Rodrigo of Mahamaya College emerged victorious over Hanasani Piumila of Visakha in the girls under 18 singles final.
With this win, both Dinesh and Thanushi Rodrigo retained their top ranking in the under 18 leaderboards having won the national titles a few months back.
The runner up in the under 18 boys category, Chandupa Alahakoon got his fair share of credit as he defeated Senura Silva in the under 16 finals to take the silverware. The final scores read 11/5, 11/7, 11/6.
In the junior categories, it was the Ananda College paddlers who took the top honours winning both the under 10 boys' singles and under 12 boys' singles. Kakeru Hennayake won the under 10 title while Senura Silva defeated Hasindu Rodrigo of Dharmaraja to win the under 12 singles final.
Complete results:
• Under 10 Boys' Singles
Kakeru Hennayake of Ananda College, Colombo beat Danuk Lamasooriya of Ananda College, Colombo – 07/11 , 15/13, 11/07, 04 / 11, 11/08
• Under 10 Girls' Singles
Lesanya Sethumdee of Dharmasoka College, Ambalangoda beat Imalsha Sewmini of Prajapathi Gothami BMV, Ambalangoda 07/11 , 11/06, 11/06, 13/11
• Under 12 Boys' Singles
Senura Silva of Ananda College, Colombo beat Hasindu Rodrigo of Dharmaraja College, Kandy
11/03, 11/08, 14/12
• Under 12 Girl's Singles
Nadithi Rehansa of Prajapathi Gothami BMV, Ambalangoda beat Sanaya Buddhadasa of Visakha Vidyalaya Colombo – 07/11, 06/11, 11/08, 11/09,14/12
• Under 16 Boy's Singles
Chandupa Alahakoon of Kingswood College, Kandy beat Senura Silva of Ananda College, Colombo 11/05, 11/07, 11/06
• Under 16 Girl's Singles
D H Colombage of Prajapathi Gothami BMV, Ambalangoda beat Ayla Chitty of Ladies College,
Colombo 11/09, 11/01, 11/09
• Under 18 Boy's Singles
Dinesh Kavishka of Vidyartha College, Kandy beat Chandupa Alahakoon of Kingswood College, Kandy – 11/ 07, 11/07, 11/04
• Under 18 Girl's Singles
Thanushi Rodrigo of Mahamaya College, Kandy beat Hansani Piumila of Visakha Vidyalaya Colombo 12/10, 11/09, 06/11,11/13,11/09 – 07
08