After the two disappointing back to back losses to Sweden and South Korea in the initial group stage ties in the BWF World Juniors Mixed Team Championships, Sri Lanka fought their way back to win against Algeria followed by Norway and Lithuania in the lower positional play-offs to decide their final fate in the competition.
The BWF World Juniors Mixed Team event currently happening in Bilbao Spain saw the Sri Lankan team winning their final group stage tie against Algeria 5-0 as the junior shuttlers emerged victorious to gain entry to the position play-offs.
Madhuka Dulanjana teamed up with Kavishka Gunarathne to win the men's double while Ranthhushka Sasindu staged a fierce fight to win the men's single defeating Yacine Belhouane. The scores read 21-17, 20-22 & 11-21.
With the Algeria win, Sri Lanka was placed third in the F2 group behind South Korea and Sweden. Sri Lanka then faced Norway in the Play-off for the F3 group and emerged victorious winning 3 out of the 5 games.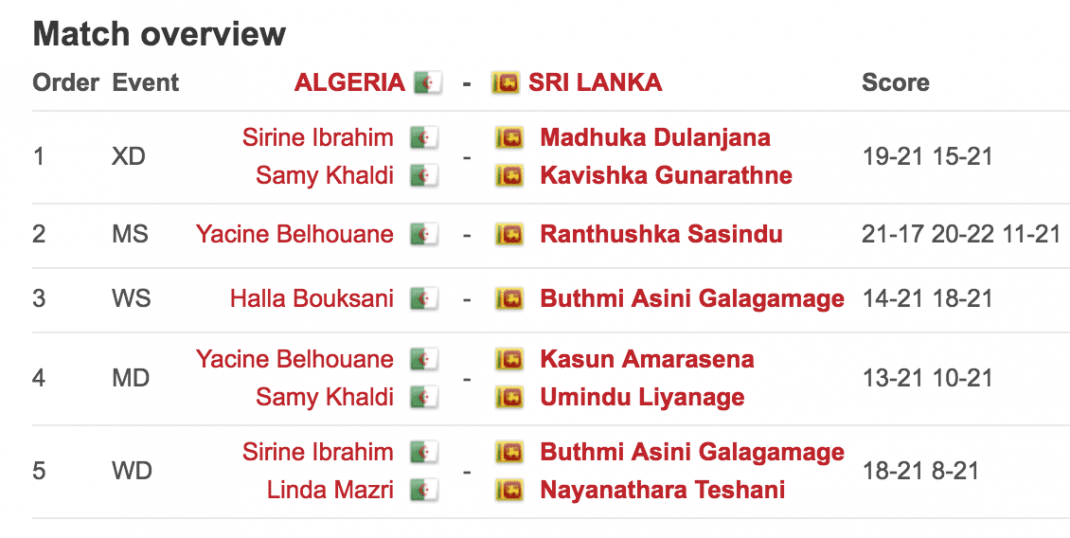 The mixed doubles in the draw against Norway saw Sri Lanka's Ranthushka Sasindu & Nayanthara Teshani defeating Marie Christensen & Ole Herman Imset 15-21, 19-21 and despite losing the men's singles and the men's doubles, Sri Lanka won the tie as they were winners in the Women's events. Buthmi Galagamage won the women's singles for the country and later teamed up with Nayanthara Teshani to win the doubles event.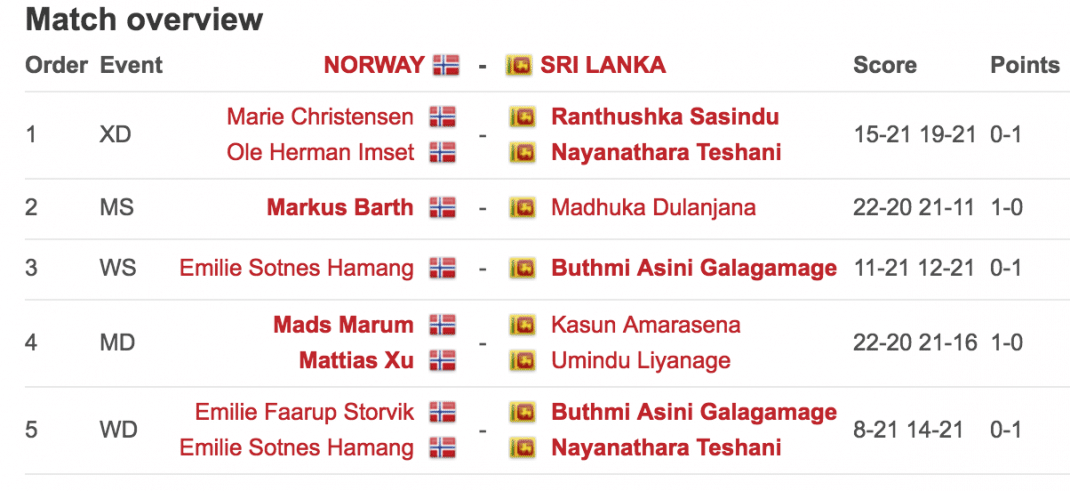 With their exit from the progressing draw, Sri Lanka are currently grouped in the final stage 33 to 40 playoff and earlier today defeated Lithuania in the first play-off tie. Sri Lanka won the first three matches which were the mixed doubles, men's singles and the women's singles and were marked winners.
It was Ranthushka Sasindu along with Nayanthara Teshani that defeated the Mark Sames-Austeja Blandyte duo 21-7, 21-11 in the mixed doubles and Madhuka Dulanjana won the men's singles against Paulius Bertasius of Lithuania. Sri Lankan girls' skipper Buthmi Galgamage brought Sri Lanka the victory winning the women's singles defeating Elizabeth Berzanskyte 21-12, 21-6.

With a win in their favour in the 33-40 playoffs Sri Lanka will face Bulgaria in the next encounter that will be played later in the day.
It was a remarkable achievement for the Sri Lankans to showcase a fighting performance against the stronger countries such as Norway and Lithuania and record victories.