The 27th Junior National Squash Championship that started off on the 26th if November at the Tamil Union Squash courts saw Sameera Deen winning the Under 17 Girls' title.
The 27th Junior National Squash is Sri Lanka's premier junior national squash championship organized by the Sri Lanka Squash Association featuring over 250 players from the squash playing provinces of Western and Central.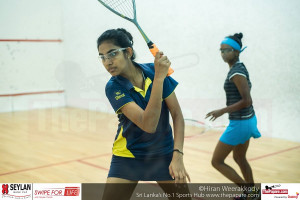 In the Under 17 Girls' category it was Sameera Deen who defeated Dewmini Gallage 3-0 to win the title while in the 3rd and 4th place play-off it was Malshi Rajapaksha who defeated Shaveetha Kohobange 3-0 to take third place honours.
The girls' under 13 quarter finals were worked off yesterday with V. S. Chanthima, Yeheni Kuruppu, Ranliya Wood and Anargi Perera progressing to the semifinal stage of the competition.
Whilst the junior finals are expected to be played on Friday, the Under 17 Boys' finalists were shortlisted with the semifinals worked off yesterday at the Tamil Union courts. Mohomad Hakeem beat Methmal Wood 3-0 and I. R. Ashwin filled the other position winning the match against Raveen Nanayakkara 3-0.