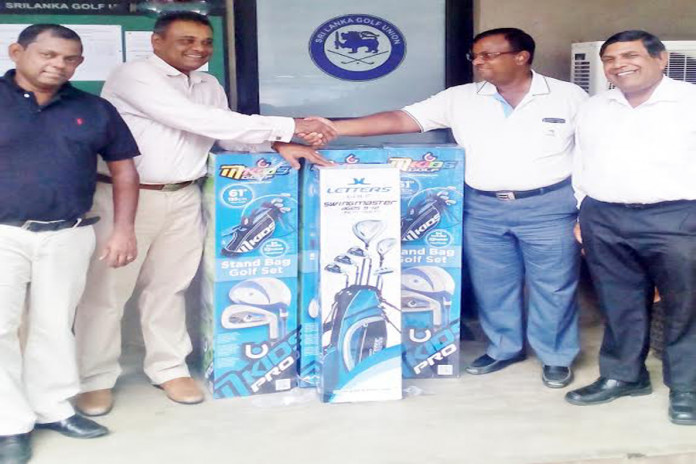 Softlogic Holdings has extended its support to one of the most promising golfers in the junior arena, currently the second-ranked golfer in the top division of the Junior Golf Rankings, Taniya Balasuriya. The fourteen-year-old shone in the recently concluded Junior Golf Championship that was worked off during last year and was second only to the junior champion, Vinod Weerasinghe.
Vinod Weerasinghe of British School in Colombo emerged victorious in the Sri Lanka Junior Open Golf Championship as he clinched the prestigious national title at the Royal Colombo Golf Club played over the last week.
The student of Sri Jayawardenapura Balika School is coached by veteran golfer Jehan De Saram. Starting to play the sport at the age of 10, she currently holds a club handicap of 6. In her short association with the sport, she has able to take home silverware including the Ladies' Sri Lanka Stroke Play Championship in 2015 and the Regional and Sri Lanka Junior Open Division Championship that earned her the top seed in the silver division (ages 12-14) in the year 2015.
She currently is in the second spot behind Vinod Weerasinghe.
Vinod Weerasinghe clinches Junior National Golf Title
A member of the Royal Colombo Golf Club, Taniya is expected to benefit from the sponsorship rendered to her from Soflogic for the 2017 calendar year. Commenting on the partnership, Chief Executive Officer of Softlogic, Asoka Pathirage added the following words.
"We believe Taniya has the potential to be a champion in the future and to contribute positively in moving Sri Lanka towards world class standards in the sport of golf. We have therefore decided to support her to improve not only her technical skills but also her physical training, nutrition and mental focus."
Junior golfer Vinod Weerasinghe clinched the top award on offer at the National Junior Golf Ranking Awards ceremony held at the Royal Colombo Golf Club for his achievement in being the top-ranked junior golfer in the country in the past year.
The coalition will now enable the junior champion to view her options overseas with many amateur and junior tournaments held throughout the year that will benefit both herself and the country.