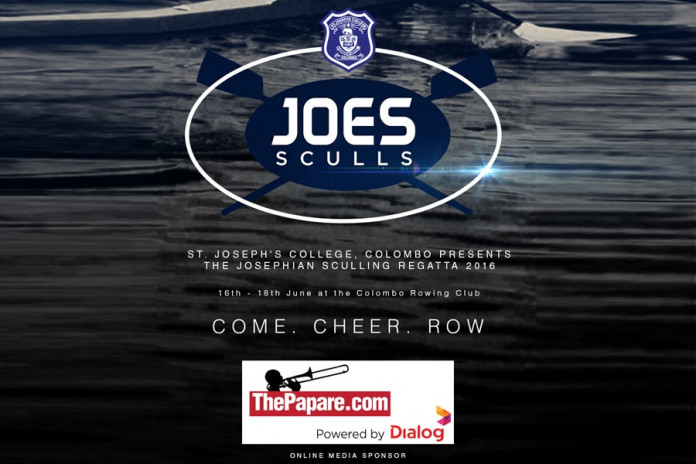 "Josephian Sculling Regatta" proudly presented by St. Joseph's College will be held on 16th, 17th and 18th of June at the Colombo Rowing Club. The previous editions were most anticipated and premier sculling events in the national rowing fraternity and were first held in 2003.
The sport of Rowing in Sri Lanka is among the fastest growing sports in terms of interest and participation. This year the long awaited Regatta will see the most talented rowers in the country- from leading National and International Schools, University undergraduates from Sri Lanka's State Universities, other competitive Rowing Clubs and enlisted Men and Women from the country's armed forces making for a diverse group of competitors competing for recognition in one of the most beautiful and rigorous sporting disciplines in the country. It will come to life in an exhilarating environment, in what is renowned as the rowing event of the year.
This much looked forward to Regatta was not held in the past few years due to the costs of equipment replacement and maintenance, but with the recent purchase of international standard rowing equipment by St. Joseph's College, the Committee is proud to announce the return of the glamorous event.
The Josephian Sculling Regatta has the blessing of Rev. Fr. Travis Gabriel, Rector of St. Joseph's College and the full backing of the Prefect of Games Rev Fr. Milan Bernard, Master in Charge Mr. Priyantha Cooray and the St. Joseph's College Sports Council headed by Mr. Brian Obeysekera and Mr. Sumith Adhihetty. Held at the start of the Sri Lankan Rowing Season, the event will therefore, be perceived an ideal precursor and competitive forum for Rowers who wish to test and apply their skills in preparation for the Nationals Championships.
The event will be an exclusive sculling-discipline regatta.  "Sculling" is one of two disciplines of Rowing.  It is done by the oarsman holding on to two smaller oars as opposed to one bigger oar.
Organizers are thrilled at the response from invited institutions and are gearing up to deliver a memorable and high quality Regatta. The races will be over a distance of 1000 meters and will feature up to 4 (marked) lanes per race. The events will be in Under 14, Under 16, Under 18, Under 23 and OPEN categories giving maximum exposure to Rowers of all ages.
The Sports Council of St. Joseph's College is grateful to their partners who have contributed in many ways to ensure a high quality event. They are, SAMSUNG – The next big thing is here, International Medical Campus, SALONPAS (Akbar Pharmaceuticals), TNL Radio, YAMAHA Marine Division and Adventure SEALs.
The Papare.com will be the exclusive online media partner of the event so stay tuned for further updates on this exciting event where the oarsmen & women will flex their muscles for glory.