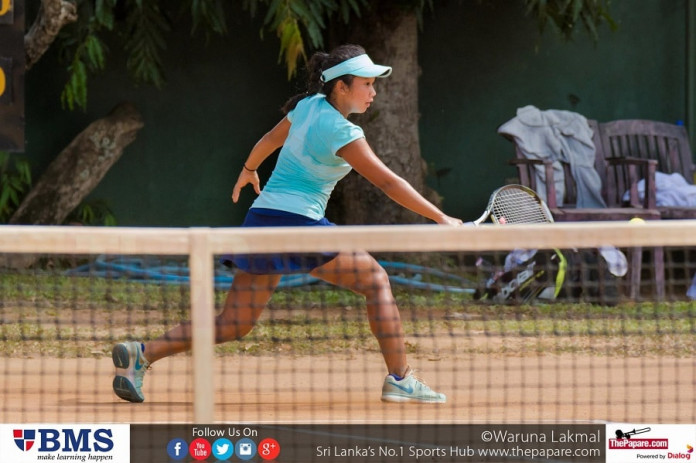 The ITF Junior Circuit which is a tennis series under the International Tennis Federation commenced on the 5th of September 2016 with the Week 1 games. Week 2 started off on the 12th of September at the Sri Lanka Tennis Association (SLTA). The tournament will feature the best among the youngsters from around the world.
Avindra Perera and Nethmi Himasha Waduge performed well in the matches proceeding into the quarter finals of the boy's and girl's singles category.
Avindra Perera beat Kabir Manrai from India in the 1st round and Shan-Yuan Ou of the Chinese Taipei in the second round and moved on into the quarter finals.
Meanwhile in the girl's category, Nethmi Himasha Waduge beat Pei-Yu Lai in the 1st round. She also managed to beat Anoushka Wooller from the United Kingdom and proceed into the quarter finals.
However, Vibudha Wijebandara and Viranka Fernando didn't have luck running their way as they lost their games in the first round to Hua-Chen Yu (TPE) and Mritunjay Badola (IND) respectively.
In the girl's category as well, Anika Seneviratne and Savini Jayasuriya lost to Man Hsuan Weng (TPE) and Sravya Chilakapudi (IND) and were eliminated off the first round.
In the boy's doubles, Avindra Perera and Vibhudha managed to win the first round match against Japan-Philippine duo but unfortunately lost to the team from the Chinese Taipei.
The Sri Lankan girls had no luck in making progress up the table as the Seneviratne-Waduge double lost to Ting-Pei Chang and Pei-Yu Lai of the Chinese Taipei.
Savini Jayasuriya and Oneli Perera lost their 1st round match too and were unable to qualify for the quarter finals.  
Week 2 of the tournament will be held until Sunday, the 18th of September 2016 as Avindra Perera and Nethmi Himasha Waduge seek to bring glory to Sri Lanka.