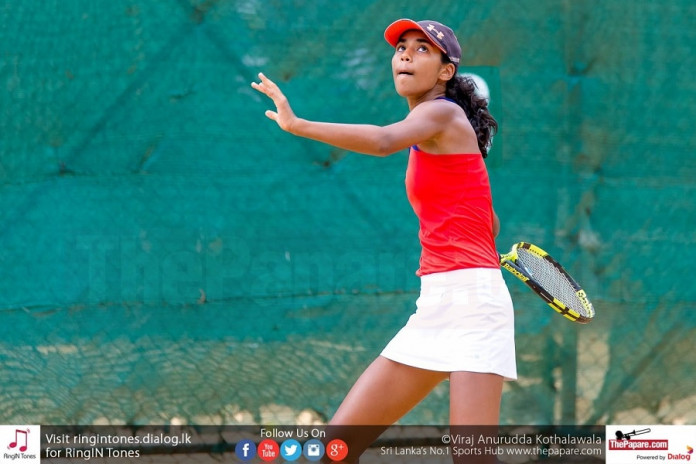 Sri Lanka's Anika Seneviratne fell one hurdle behind the all-important final of the ITF Junior Circuit Week 3 Girls Singles where she faced defeat against Ting-Pei Chang of Chinese Taipei.
The fifteen-year-old emerging tennis player, Anika gave a strong fight in the to the overseas counterparts in the third and final week of the grade 5 ITF Junior Circuit tennis tournament but the Taipei player was able to overcome the Lankan. Anika lost the game 6-3, 6-1 in finals to call an end to the Sri Lankan hope in the ITF Junior Circuit. Competing in an international arena with top players from around the world, Anika's achievement is indeed commendable.
Top seed Uma Nayar of Malaysia will face Ting-Pei Chang of Chinese Taipei tomorrow (23rd) in the finals of the third Colombo week.
In the doubles series, the Lankan duo Avindra Perera and Vibuda Wijebandara teamed up in the Boys' tie and confronted the Malaysian-Pakistan duo Mohd Adam Das  & Raza Sawani 6-0, 3-6 (12-10). After a successful heist in the first round, the Sri Lankan combo was defeated by Ying-Ze Chen & Ting-Hao Hsu of Chinese Taipei in the second round. The scores read 6-4, 1-4 (10-3).
Anika Seneviratne teamed up with the ITF Junior Week 2 winner and former junior national champion Nethmi Waduge in the Girls' doubles title run but had to bow out in the second round. The duo defeated Scarlett Hutchinson of Great Britan and Lara Schimd of Germany 4-6, 6-3 (10-5).
Facing Ting-Pei Chang of Taipei & Xuanjin Li the Sri Lankan doubles pair went down fighting 6-2, 6-3. The other Sri Lankan doubles player did not have the privilege of progressing forward.
After three weeks of exciting action featuring top international junior players, the ITF Junior Circuit Colombo tournament will arrive at a conclusion this weekend. Sri Lanka's Nethmi Waduge brought home the ITF Junior Series Week 2 title defeating Daevenia Achong while the other success story will be that of Anika Seneviratne who made it to the semifinals of the penultimate week.