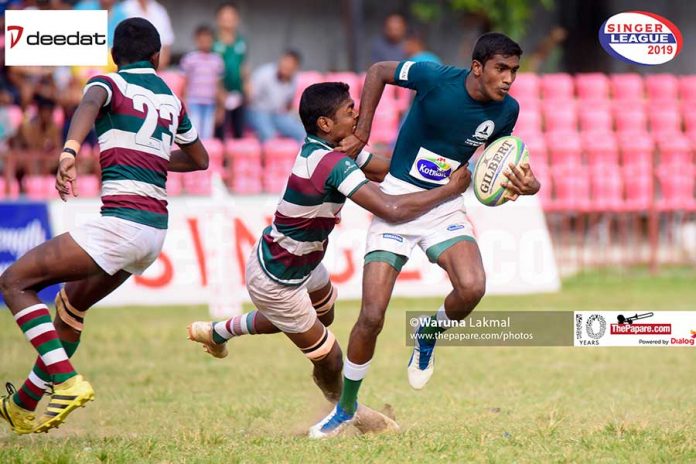 Zahira College made favorites Isipathana College sweat, however the hosts fought their way towards a 17-3 win in the Schools' Rugby League game worked off at Havelock Park.
Isipathana College came in with hopes of dominating the visitors, however, the game turned on its head as Zahira kept a hold of possession, making the hosts work out of their skin.
It took Isipathana College sixteen minutes to break the deadlock in the game as the stubborn Zahira defense was finally breached. Five-eighth Renuja Silva set up center Ramitha De Silva for the opener. De Silva's superior in-to-our line saw him go untouched, through the heart of the Zahira defense to score.
Manilka Ruberu slotted home from close range to make it a perfect seven. (IC 07-00 ZC)
Zahira College cut the deficit four minutes later as the Isipathana defense was caught offside in front of the upright.
Photo Album : Isipathana College vs Zahira College | Schools Rugby League 2019
Abdul Salam made no mistake from the tee to make it a 4-point game. (IC 07-03 ZC)
Zahira College dominated proceedings with majority of the possession, however, failed to make an impact on the scoreboard as the first half drew to a close with the visitors trailing by 4-points.
Halftime: Isipathana College 07 (1T 1C) lead Zahira College 03 (1P)
The Green Machine took just five minutes in the second half to extend their lead further, however, their struggles continued with the inability to keep a hold of the ball.
Ruberu pierced the posts, making the Zahira chase all that tougher. (IC 10-03 ZC)
Points dried out following Ruberu's penalty as the game was played in-between the 22-meter line of both teams as neither managed to penetrate the defenses.
Abdur Rahuman of Zahira was sent to the bin for a tip tackle in the 69th minute of the game as the lads from Maradana dropped their fourth game in a row.
Luqman Riyaz added to the visitors' woes with a try on the stroke of full-time, breaking the hearts of the Zahira faithful.
Ruberu added the extras from the touchline as referee Dinka Peiris brought the game to an end, handing Isipathana an unconvincing win, all but sealing the drop for the visitors.
Full time: Isipathana College 17 (2T 2C 1P) bear Zahira College 03 (1P)
ThePapare.com player of the match: Manelka Ruberu
Score breakdown:
Isipathana College: Ramitha De Silva 1T, Luqman Riyaz 1T, Manelka Ruberu 2C 1P
Zahira College: Abdul Salam 1P

Bookings: Abdur Rahuman yellow card