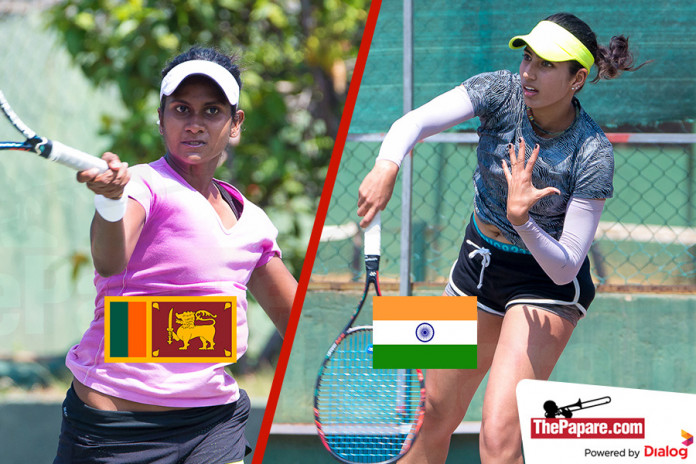 Sri Lanka's hopes in the Astoria Asian Tennis Tour will be vested on Thisuri Molligoda when she takes on India's Vikram Bhasin in the final clash of the main draw in the first week of the women's series played at the Sri Lanka Tennis Association courts.

Sri Lanka play host to the first Asian Tennis Tour that started off early this month and the first week of the Women's series has been the most fruitful outing for the Lankan players thus far.
Indian national ITF pro circuit player Karunday Singh took home the second week Men's Singles title of the first ever Asian Tennis Tour.
The two time national champion, 20-year old Thisuri Molligoda stormed her way into the finals defeating Anika Seneviratne in the semifinals with scores reading 6-4, 4-6, 6-0. Thisuri will now face the 20-year-old Vikram Bhasin from India.
The Indian outsmarted the former national champion, Amritha Muttiah in the semi-finals to get her ticket to the finals. The semi-finals score read 6-1, 6-7(1), 6-3 in favour of the Indian.
Photo Album: Asia Tennis Tour Week 3 – Women's
Good week for the Sri Lankans
Nine slots out of the 16 slots were secured by Sri Lankan players and three out of the four semi-final slots were taken by the Sri Lankans. 15-year-old Anika Seneviratne defeated Hasindhi Lokuge to make her way to the semi-finals while Amritha Muttiah defeated Sathi Siyara Silva and Kemalie Herath to make it to the other semis.
The final is set to take place today at the SLTA playing courts and the penultimate week of the $5000 Astoria Asian Tennis Tour will commence on the 20th of this month.