With lightning pace that leaves defenders gasping for air, and an eye for a finish that is reminiscent of a certain Mohamed Issadeen, the football crazy city of Kalutara has found a new shining light in young striker, Nirmal Udara Perera.
Currently studying at Holy Cross College in his hometown, the star of the 2016 U19 Division I Championship gave us some insight into his journey so far.
A late start
Having started his football career proper relatively recently, the young striker spoke about his humble beginnings on the turfs of Kalutara.
"I recently started after my ordinary level examinations, but I initially started at the age of three. I stopped right away however and couldn't even play a proper year. Come the conclusion of my O/L exams Dilan sir (Dilan Jayasooriya) called my parents and asked them to involve me in football."
Nirmal recommenced his football journey midway through his school career and in the meantime, played a number of other sports, consistently keeping in touch with his passion.
"I took part in Athletics, Basketball and pretty much all sports offered in school. I liked football since my childhood despite my parents not wanting me to take part and I was always connected with the sport as I continued playing in my neighbourhood and then eventually I joined the school team after my ordinary level exams".
After getting his parents on board, the youngster finally got to don the purple and yellow jersey of his beloved alma mater at the Josephian Futsal Carnival.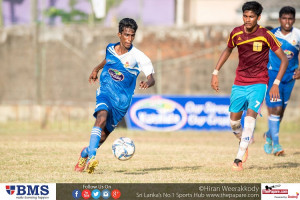 Making a name for himself
Nirmal came to the spotlight during the Division I tournament, but it was during the Kotmale U19 Championship that we first got wind of this burgeoning young talent. When asked about his thoughts on the tournament, where Nirmal led his team to a Quarter Final finish he said,
"In the Kotmale U19 competition up until the quarterfinals I scored a total of 9 goals. I scored the highest in one single game was against St. Benedict's College where I scored 4 goals."
The Crusaders finished top of group C with 5 wins and 1 loss. They defeated the likes of St. Joseph's, St.Mary's, St.Benedict's and Kingswood College. Their only loss came in the final group game against De Mazenod College. Nirmal scored 9 of the 13 goals Holy Cross scored in the group stage.
St.Joseph Vaz College, Wennappuwa overcame a late Holy Cross College serge as they beat them 5-2 in the…
The team failed at the quarter final hurdle even with him scoring a goal and thus, quickly turned their attention towards the next trophy on offer. Speaking further about how the team prepared mentally for the future following their defeat,
"It's not a surprise that any team falls mentally at the end of a defeat but we were always told by Dilan Sir that we have what it takes to beat any team and that we can achieve anything," said Nirmal.
Goals galore
The youngster really came to the fore during the latter part of 2016, when the Division I tournament kicked off, and it was his trailblazing performances then that really turned people's heads.  Having hit top form heading into the tournament, Nirmal lead his side from the front as they took on heavyweights in the shape of Royal, Hameed Al Husseinie and Zahira.
"First off facing up against some of the big teams we felt the loss of the players who had left the team. However we compensated for those losses and came into the competition to keep our Division I status intact.
Nirmal demolished Ananda College with 5 goals in a 6-0 win and scored one more against St. Peter's College.
"Once we registered a win against St. Peter's College, the coaches were happy with the progress we had made and wanted us to carry on the way we had been playing up until that point."
The draw against Royal meant that Holy Cross needed at least a draw against the mighty Zahirians to progress. Though he wasn't able to score, his work rate once again stood out as the Kalutara lads came from a goal down to draw 1-1 in the lion's den in Maradana.
"We didn't know what to expect from the Zahira game as they're one of the best teams in the country but somehow we managed to draw the game. The next game we had to win to progress to the semi-finals but once we overcame Hameed Al Husseinie College in that game we believed that we could go all the way."
Holy Cross College came from a goal down in the 2nd half to win 2-1 in a do or die game against Hameed Al Husseinie College…
Holy Cross College faced Hameed Al Husseine College in a pivotal game prior to qualifying for the semis and Nirmal feels that the team pulled together, giving them the win.
"The Hameedia game we played with a lot of pride because we were playing at our home grounds. Our entire team played a very good game on the day to come back from a goal down to clinch the win."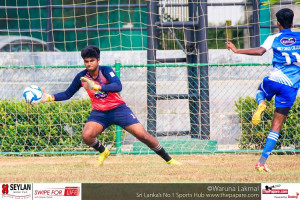 In the must win game against Hameed Al Husseinie they were once again a goal down before the hero single handedly turned the game upside down, scoring a double within three minutes.
Facing rivals Maris Stella College in the semi-final, Nirmal really stepped up to plate, scoring a goal, in a 2-1 win.
A late surge from Maris Stella College in the dying minutes was not enough as Holy Cross managed…
Following a tough semi-final they came up against the dangerous Josephians in the final played in front of a large crowd at the Moragasmulla grounds. Holy Cross failed to take the crown though, as they couldn't turn the score line despite threatening to come back in a game where they had to switch to an alien jersey moments before kick-off.
A flawless display in the second half saw St. Joseph's College beating Holy Cross 2-1 courtesy of two…
"We had a huge belief that we'd be able to pull off a victory in the finals of Division I championship. We had beaten them once in the group stages of the Kotmale U19 Championship and we had that psychological advantage on our side.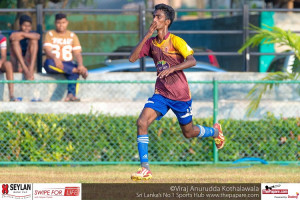 We had an issue with our jersey on that day so we had to wear some other jersey to play the game that affected the players mentally. We still played the game whole heartedly and once again the goal which was disallowed for an offside call proved to be vital."
Though the Crusaders failed to lift the Championship, Nirmal Udara became the Golden Boot winner with ten goals in 8 games in the tournament, one more than St. Joseph's Sachintha Maduranga.
The future
Nirmal, who is a Barcelona and Brazil fan, doesn't really idolize one particular player, but has a great deal of admiration for his local colleagues including the likes of Farood Faiz of Zahira College, Sachintha Maduranga, Naveen Jude of Royal College and Ranju Silva of De Mazenod College.
Asked about the key to his success on the pitch, Nirmal says, "Being an unknown entity was an advantage for me.  Although I don't have a physical advantage, my ability to lead the attack with pace is the biggest weapon in my arsenal."
Now in the twilight of his school career, Nirmal already has one eye set on the future and what he plans to do in the forthcoming period, both in terms of football, and his education.
"As a team, I think Holy Cross is one of the top teams in the country in schools football. So we want to perform the way we did last year. A few U17 players have joined the first team to strengthen our squad. Personally I want to concentrate on my A level exams as much to play well this year and replicate my performance from last year."
"Our school's old boys with the guidance of Mr Dilan have started a club called Crusaders involving the old boys of our school, so I'm hoping to join them once I finish school."
In an era where talent-poaching has become commonplace, we couldn't resist asking this future star whether he had been offered an 'upgrade' by any more established schools,
"No one has made me any sort of offers to join another school but I don't think I will be considering any if I do get either." said Nirmal with a beaming smile.
With his unique style and blistering pace Nirmal Udara has taken schools' circuit by storm and is bound to get better and better. Unfazed by his inexperience the young man has all it takes to take Sri Lanka football to achieve folklore status as he aspires to stamp his mark as a hitman upfront.