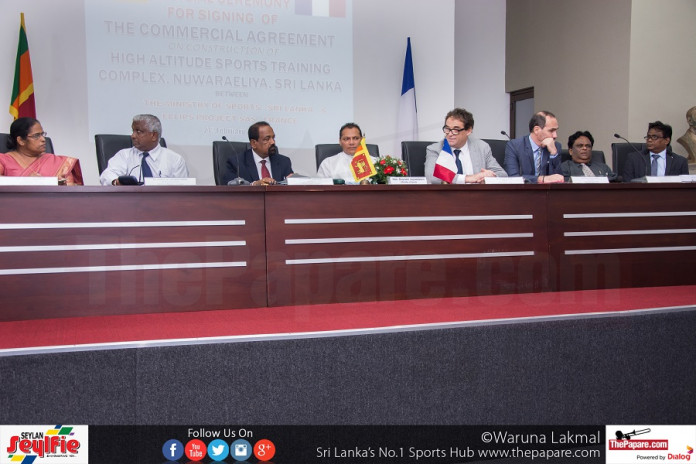 A high altitude performance enhancing sports complex is to be constructed in Nuwara Eliya under the sponsorship of the French organization Elips Project SAS. In a press release which marked the agreement made among both the Sri Lankan government along with the Elpis Project SAS the memorandum was signed with the presence of Hon. minister Dayasiri Jayasekara and the President of Elpis project SAS Mr. Olivier Picard and vice president Jean Claude Girma at the sports ministry auditorium today.
It is expected to construct the proposed high altitude sports complex, on a land of 34.5 in extent, located in the city of Nuwara Eliya. A height of 1500-3500 meters (above sea level) is required to build a high altitude sports ground. The highest altitude sports' ground presently situated in China lies at an altitude of 1899 meters and a similar one in Japan.
The high altitude environment increases the power of endurance in sports persons. Therefore, this venue would in particular; increases the power of endurance among those who are engaged in Athletics while the sportsmen and women engaged in sports such as Kabadi, Netball, Hockey, Swimming, Cycling, Rugger and Volleyball would find this place as an ideal venue. They can also enhance their capacity of endurance. SAARC countries Bangladesh, Maldives island, India, Pakistan and also Asian Pacific countries expend a lot of money to the western countries for the altitude training. Generally, successful training requires 3 to 6 weeks and when it comes to such training in China and Japan it costs US$10,000-US$ 25,000, whereas this cost is US$8,500. Here in Sri Lanka, it would be adequate to cover the cost of training in several sports and on the other hand it would save foreign exchange.
The estimated cost of this project will be 75,528,700.91 Euros and that 100% of this amount would be provided through HSBC by the Elips Project SAS. (70% as a foreign load and 30%as a local loan).
A repayment period of 13 years has been granted for the foreign loan component (Inclusive of 3  year's grace period) and 14 ½ years in respect of the loan. (Inclusive of 2 ½ years grace period).
Speaking to the gathered Hon. Minister Dayasiri Jayasekara mentioned "It's a remarkable step we have taken through the Ministry of sports to have a high altitude center in Sri Lanka. It's the fourth in Asia along with the two in China and the one in Japan. We're planning on building two more synthetic tracks out of Nuwara Eliya from this project in other provinces and we have allocated some money with the consent of the Hon. Prime minister to develop the Radella Cricket Stadium."
"We wanted to develop some important things such as Biomechanics, Sports medicine and Sports physicians and all kind of facilities along with them. We want to develop a project which spans out for another 10 years or so hence we want to employ all the modern methods into this project. Environmentally this will not harm anyone, as we have covered all UDA regulations and other institutions have given us their support in covering all the required regulations" he further stated.
The plan for the proposed project will be finalized come the month of march as the project will commence on the 1st of June 2017.