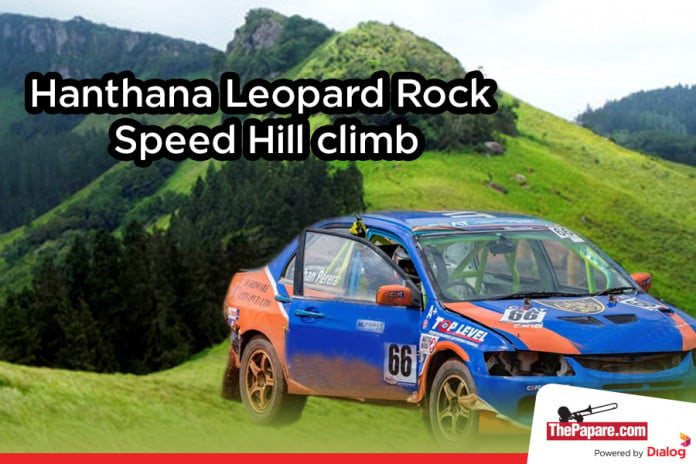 Reviving motors sports in the hill capital after a long absence "Hanthana Leopard rock speed hill climb" makes a return to the Island's motor sporting calendar and will be the kickoff event of the 2017 season on Sunday, 05thFebruary from 08.00 am onwards.
Organised by the Senkadagala Motorsport Club (SMC) in conjunction with Sri Lanka Motor Cycle Club (SLMCC), this event will comprise of a ladies race, novices event and a special classic car event which  has been introduced this year apart from the general hill climb events. A record number of over 100 entries have been received by the organisers who are thrilled at the response they have got for this returning fixture and are determined to provide the competitors and the spectators an event to remember.
Hanthana Leopard rock Speed Hill climb will be competed on a 1.2km long track, making it the longest and arguably the fastest hill climbs in the island. Hanthana tea museum will be the start point of the race and the drivers and the riders will ascend their way up the famous Hanthana mountain range providing thrills and spills to the excitement seekers who will gather to witness this magnificent event.
Speaking to ThePapare.com the president of the Senkadagala Motor Sports Club Mr. Thusith De Silva mentioned that  "I have been racing for 35 years and retired 2 years ago due to health issues , I have been a resident of Kandy for the past 25 years and I noticed that there was no organization in Kandy that was promoting the sport and we did not have new blood coming into the sport from this region. This was the main reason that prompted me to form the Senkadagala motor sports club. As the first event of the we oragnised a training program for 49 upcoming drivers at Pannala where they received a class room training and also practical lessons from  champion drivers of repute. For the Hill climb we have 18 novice drivers who have signed up and I believe it's a great sign for the future of motor sports in Kandy".
We queried Mr De Silva on what to expect at the 'Hanthana Lepord Rock hill climb' – "This time we have included a few novel events to the hill climb. There will be a ladies only race to encourage the female participation and also a 'real' classic car event where vehicles manufactured only before 1960 will be permitted to take part. This will be a truly novel experience to see these oldies racing each other"
All proceeds from the event will be directed towards the uplifting and development of the Cancer ward at the Kandy General Hospital. The SMSC thanked the police station of Kandy district, provincial road development authority, Gangawata Korale pradeshiya sabha for their immense assistance in organizing the event.