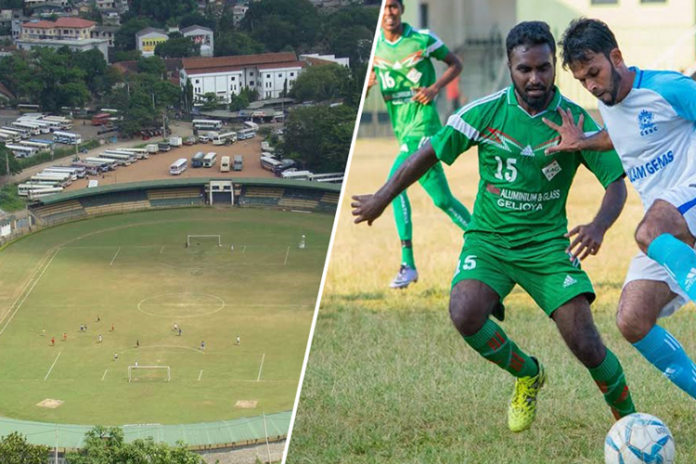 The Premier League Division I fixture between Gelioya SC and Red Sun SC was postponed due to complications arising from the Ground management.
Gelioya SC who won the Premier League Division II championship beating Ratnam SC in the finals and the lads from Gampola, Red Sun SC looked all fresh and raring to go to start off the season on a high on the above said match scheduled to be held on the 3rd of September at 3.30 pm at Bogambara Stadium.
Both the teams, referees and the vibrant spectators filled the stadium looking for a mouth watering encounter. But their expectations were cut short when they witnessed no pre match arrangements had been made. No lines were painted and the goalposts were nowhere to be seen. That was when the Bogambara ground management refused to give the grounds to start the proceedings.
When asked regarding the refusal to release the grounds, the management pointed at the inclement weather and further explained that the conditions of the grounds will worsen if the match is played during heavy rain.
They further stated a notice regarding the cancellation was conveyed to both the teams. The referees inspected the ground condition and decided to start the match at 4.00 pm but no sorts of arrangements were made despite referees' call and they had to cancel the match.
Despite the booking of the grounds, arrival of the teams and referees the match had to be stopped. The fans who came all the way spending their valuable money, time and energy had to return home disappointed. Both the team managements did not hesitate to show their displeasure about the cancellation of the match.