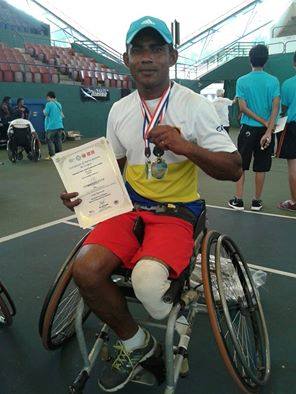 Sri Lanka's national Wheelchair Tennis champion, Gamini Dissanayake went on to win the Malaysian Open Wheelchair Singles defeating Wittaya Pee-Mee of Thailand 6-4, 7-6(8) in the finals that was played as a continuing series of the ITF Future Series during the past week.
The Malaysian Open Wheelchair series, which is a part of the ITF Future Series was held from the 21st to the 23rd of October 2016 at the National Tennis Centre Kuala Lumpur, Malaysia.
Working his way up the main draw, Dissanayake first faced Yushazwan Yusuf of Malayia in the Quarterfinals having being awarded a walk over in the first round. The Sri Lankan won the encounter 6-3, 6-1. Following up his success, he defeated Suthi Khlongrua of Thailand in the semi-finals despite going down in the first set. He won the game with scores reading 2-6,6-3, 6-4.
In the finals against Wittaya Pee-Mee, Dissanayake won the first set easily 6-4 and later won the second set 7-6 (8) as the game went into a tie breaker.
Along with him, the other Sri Lankan players who participated were R. Ranaweera, Pradeep Kumara, R. Dharmasena, S. Dharmasena. None of the other players were fortunate enough to progress beyond the 1st round.