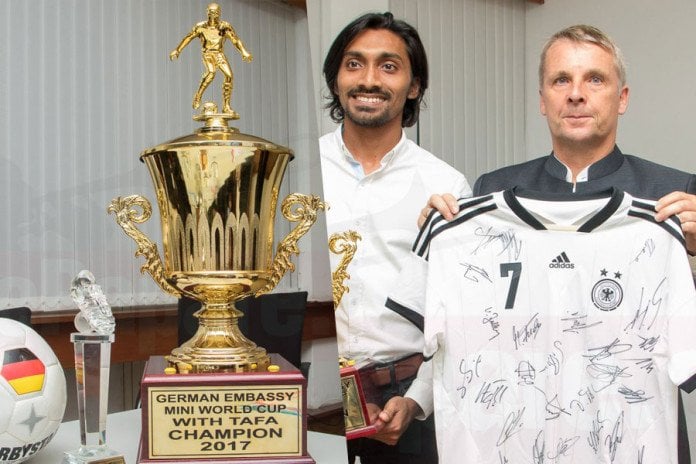 The German Embassy along with Thaabit Ahmed Football Academy (TAFA) will stage the first 'Mini Football World Cup' at the Race Course International Stadium on 20th May.
The tournament will take place from 1.00pm to 6.00pm with 8 girls' and 8 boys' teams participating from Jaffna, Gampaha, Negombo and Colombo. There will be 2 boys' and 2 girls' teams from each area. The teams will be supported by the Embassies of Switzerland, Norway, Netherlands, Brazil, France & USA and each team will represent its sponsoring country in the tournament.
"Main thing is for the teams to have a great experience and it will also bring children from different parts of the country together. As long as I am here there will be more events. Football is a great way to bring people together," mentioned Jorn Rohde – The German Ambassador in Sri Lanka.

"Football is the world's most popular game and our event will surely contribute to increase its popularity in Sri Lanka," he added.
The German Embassy and TAFA have conducted few events in the northern region with great success. TAFA conducted workshops followed by a 'German Embassy Tournament' back in 2016 and a cultural event in Kilinochchi and Mulativu Districts in early 2017.
"In February we did a project in the North along with the 'German Buzz'. We reached out to 4000 children in two weeks. This project (Mini World Cup) is those two put together. The teams who won in Jaffna will be coming to Colombo. It was the Ambassador's idea of a World Cup themed tournament. It will be a multi ethnic event," Founder of TAFA, Thaabit Ahmed elaborated.
The tournament will be for U16 girls' and boys'. Awards for the Best Player from the two categories will be given out. There will also be gifts from Borussia Dortmund while DIMO will provide footballs. Each match will go for 12 minutes with 6 minute halves and will be conducted in two pitches.
Hilton Hotel Colombo, Elephant House and Nestle will provide food and beverages for the teams.