The nation currently ranked 3rd in the FIFA World Rankings, Belgium are going through what is widely regarded as their 'Golden Generation' with their squad boasting many world-class players.
Whenever the FIFA World Cup comes around, the Brazilians..
World Cup History
Belgium was 1 of 13 teams to be invited to the inaugural FIFA World Cup in 1930 in Uruguay where they lost their two matches against USA and Paraguay, 3-0 & 1-0 respectively, ending up last in their group.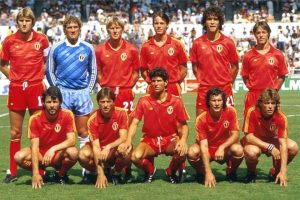 Russia 2018 will be Belgium's 13th appearance at the World Cup, with their best ever record coming from the 1986 World Cup in Italy where they finished in 4th place. They finished 3rd in the group behind Mexico and Paraguay to qualify for the knockout stage and faced the Soviet Union in the Round of 16 where after an extremely nerve-racking match that went into extra time, Belgium emerged winners 4-3.
They faced tough opposition in the quarter-finals in the shape of Spain who had just crushed Denmark 5-1 in the Round of 16. Once again it was a very nervous game for the Belgian fans after the game ended 1-1 after extra time, but the Red Devils won 5-4 on penalties to move on to the semi-finals where they would face Argentina, a battle that proved too much for them as they lost 2-0.
Belgium then went on to lose 4-2 after extra-time against France in the third-place play-off to finish 4th. Belgium's Enzo Scifo won the Best Young Player award at the 1986 World Cup.
How They Qualified
Belgium was drawn into UEFA Group H for the qualifiers along with Greece, Bosnia and Herzegovina, Estonia, Cyprus and Gibraltar. Belgium unsurprisingly cruised to the top spot and secured automatic qualification to Russia, winning 9 out of their 10 qualifiers and drawing the other 1-1 against Greece.
The 9 wins included three massive results in the forms of an 8-1 win against Estonia followed by a 6-0 win and another massive 9-0 humiliation of Gibraltar. Belgium was clearly superior out on the football pitch against all the other nations in their group, allowing them to clinch the top spot quite easily, ending on 28 points while second best Greece managed only 19 points.
Manager & Playing Style
Roberto Martinez was the surprise choice made by the Royal Belgian Football Association for their new Head Coach after Marc Wilmots was sacked due to Belgium's disappointing Euro 2016 campaign.
Martinez, now 44, has not had the most lucrative managerial career thus-far, having previously only managed Premier League clubs Swansea, Wigan and Everton, with his biggest achievement coming from Wigan when he led them to FA Cup glory in 2013.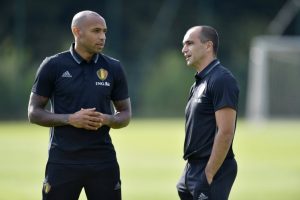 However, with his world class squad and a great assistant manager in Thierry Henry, who will be able to afford amazing insight and support, it will surprise very few if the Red Devils go all the way in Russia.
Belgium seemed to favour a 3-4-2-1 formation with Romelu Lukaku usually up front with Eden Hazard and either Kevin de Bruyne or Carassco behind him. This formation seemed to work wonders throughout their qualifiers, so it will be interesting to see if Martinez sticks with it or whether he will make adjustments in Russia depending on the opposition.
Strengths & Weaknesses
As mentioned previously, Belgium boast a top squad, arguably one of the best squads at this years' World Cup, with the likes of Chelsea's Eden Hazard and Thibaut Courtois, Mancheter City's Kevin De Bruyne, Man United's Romelu Lukakku, and the likes of Mertens and Carassco, they have a squad that can definitely beat any of the other 31 teams if they all play well together.
Belgium are currently going through what many refer to as a golden generation, with their captain Eden Hazard himself saying, "We know what we are. We are good players, we all play in big teams in England, in Italy and in Spain. We have a golden generation, we just want to win something now."
The only factor that could possibly be considered a weakness for Belgium would be the fact that their manager has never been in a competition of the caliber of the FIFA World Cup, yet with the likes of Thierry Henry to back him up, fans should not be too worried about this.
Key Players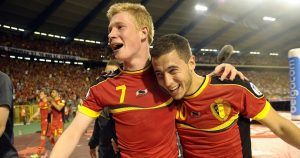 Eden Hazard has been Belgium's captain for a while now and is well settled into his role as the leader. Hazard, considered by many to be one of Premier League's greatest players can definitely light up the fields in Russia with his jaw dropping skill on the ball and guide Belgium far in this World Cup. Despite his club Chelsea having a fairly poor season, Hazard was a major part in guiding them to FA Cup glory.
Kevin De Bruyne is another one of Belgium's world class players and had an amazing season with Manchester City as they dominated the Premier League. De Bruyne was Belgium's best player in the 2014 World Cup, and there is little doubt he has the potential to be so again this year.
Belgium also have one of the best keepers in the world in Thibaut Courtois, who made some amazing saves in Chelsea's FA Cup winning final against United. If Courtois has a good World Cup, it is hard to imagine Belgium not having one as well.
Ones to watch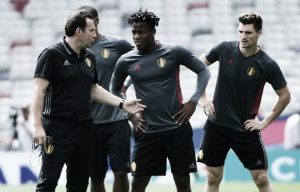 Thomas Meunier and Michy Batshuayi will be two players to keep an eye on. Meunier has become a very versatile and reliable defender in the recent past for Belgium, while Batshuayi who is likely to player second man to Lukaku, was in some hot goal scoring form for Dortmund before his injury.
Batshuayi will surely be hoping to use this World Cup as a way to show off his talent and boost his career.
Final Squad
Goalkeepers: Koen Casteels, Thibaut Courtois, Simon Mignolet

Defenders: Toby Alderweireld, Dedryck Boyata, Vincent Kompany, Thomas Meunier, Thomas Vermaelen, Jan Vertonghen

Midfielders: Yannick Carrasco, Kevin de Bruyne, Mousa Dembele, Leander Dendoncker, Marouane Fellaini, Eden Hazard, Thorgan Hazard, Adnan Januzaj, Dries Mertens, Youri Tielemans, Axel Witsel

Forwards: Michy Batshuayi, Nacer Chadli, Romelu Lukaku
>> For more World Cup News Click Here <<