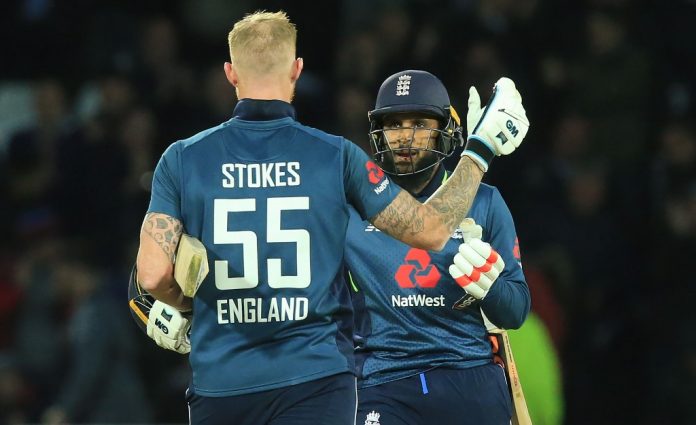 England completed a three-wicket win over Pakistan despite losing 4/15 in the middle of their run chase.
>>Morgan suspended for Nottingham ODI after second minor over-rate offence whilst Bairstow also fined<<
A series of relentless run-scoring continued in Nottingham as England, despite a mid-innings wobble, comfortably down Pakistan's total of 340/7 while also giving their lower middle-order important match practice less than two weeks away from the start of the ICC Men's Cricket World Cup.
England won the toss and elected to give their new ball pair of Jofra Archer and Mark Wood a chance to display their express pace. The duo bowled with seriously impressive pace, regularly clocking speeds in excess of 90 miles per hour. Archer's speed gave Pakistan a pre-World Cup injury scare when he struck Imam-ul-Haq flush on the elbow. Clearly in immense pain, Imam retired hurt with just three runs to his name – not the start Pakistan had in mind.
>>Bairstow blitz helps England canter to record chase<<
They recovered superbly, with Fakhar Zaman taking the attack to the England bowlers in his characteristic cavalier style. At the other end, Babar Azam batted with real class and nous beyond his years in negotiating England's fiery pace battery. After Zaman succumbed to a Tom Curran crossed-seam delivery for 57, Babar continued to upper-cut and backfoot-punch his way through the innings, eventually bringing up a thoroughly deserved ninth ODI century.
When he fell for 115 in the 40thover, Pakistan still had work to do to pose a significant threat to England's ferocious batting line-up. That work was completed thanks to two excellent innings from old-timers Mohammad Hafeez and Shoaib Malik that helped propel their team to a score close to 250. Curran finished with four wickets for Pakistan – although they came at the expense of 75 runs – while Joe Denly, reportedly under pressure for his spot in the final 15-man World Cup squad, was the most frugal, conceding just 27 runs from his five overs.
England, as you'd expect, came out of the blocks with confidence, knowing full well that a chase of 341 was well within their reach. Jason Roy, in excellent form so far in the series but without a hundred to show for it, looked intent to change that. Batting with control as well as intent, he and fellow opener James Vince got England off to an excellent start.
At 94/0 in the 14thover, England were on the front foot. Even after Vince's dismissal for 43 – he played off Mohammad Hasnain – England were in cruise control. Joe Root picked up where Vince left off and Roy went through the gears as he brought up his eighth ODI hundred. England passed 200 in the 28thover and were seemingly set for a victory with at least five overs left spare.
To this point, Pakistan's fielding hadn't done them any favours. Dropped catches and misfields had let England get away from them. Worse sides would have allowed their heads to drop in frustration but Pakistan held to their task admirably and were suitably rewarded for their efforts. Roy fell for 114, feathering one down the leg-side to Sarfaraz Ahmed off Hasnain before Root fell shortly after to Imad Wasim. Jos Buttler and Moeen Ali both fell for ducks and suddenly England were five down with 125 runs still to get.
With England ahead of the rate, there was no need to panic. Ben Stokes and Joe Denly – both capable top-order batsmen – steadied the ship. Both looked settled until Joe Denly was spectacularly caught by Junaid Khan off his own bowling. 83 runs away from their target, Pakistan were on top for the first time during the run chase. But England bat deep, very deep. Tom Curran, batting at eight, was excellent. After giving himself a few balls to play himself in, he was innovative in his search for boundaries and took the pressure off Stokes at the other end. He fell to a perfectly executed Hassan Ali yorker, but his 31 was enough for Ben Stokes (who finished on 71) and Adil Rashid to take England home.