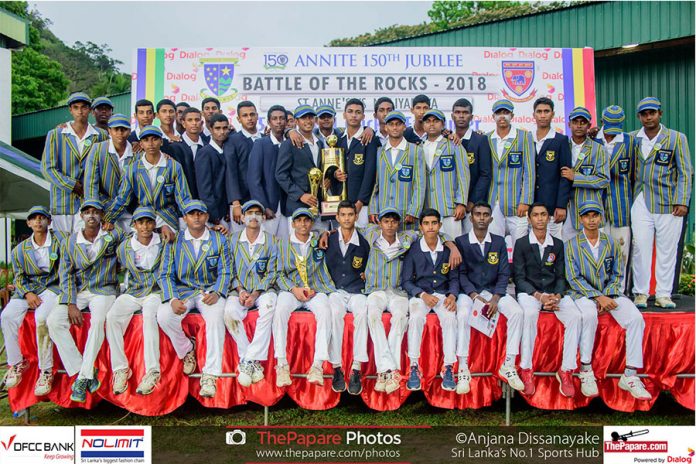 A determined and an unbeaten 69 from skipper Dulaj Ranathunga and a tropical downpour rescued Maliyadeva College to a draw on the second day against St. Anne's College at the Welegadera Stadium, Kurunegala.
The second day was abandoned, before the scheduled close, due to torrential rain late in the afternoon with the Devans on 167 for 6, leading by a mere 17 runs. Skipper Dulaj rescued some pride for Devans who were bowled out for 86 in the first innings, with a rear-guard batting display to anchor the innings. It was the Devan's solitary half century of the match.
After having won the toss, Devans put the opposition in to bat first. Annites scored 236 for 9 in 65.4 overs before declaring their innings. Dananjaya Bandara top scored with 57 runs. In reply, batting for the first innings Devans were 83 for 9 at close of play.
The second day's play resumed as Devans were tottering with 83 for 9. The final pair did not last long as they were able to add three runs for their overnight score, handing Annites a 150 run lead.  The Annites bowling led by pacer Wanitha Wanninaayaka were too hot to handle for the Devans. Wanitha Wanninaayaka had impressive figures of 4 for 33, while skipper Randeera Ranasinghe and Pubudu Ganegama supported with figures of 3 for 27 and 2 for 15.
The Annites skipper, Randira enforced the follow-on in giving his team a winning hope. However, Dulaj and Muditha blunted the Annites attack during the first hour of the afternoon and then the rain interruption washed out the rest of the session. Skipper Dulaj scored an unbeaten 69 while Muditha added 48 by falling short of a well-deserved half century. Parts of the pitch hid under the covers, glistering towards Devans in the murky ambience, the Annites fans experienced nothing but frustration in the stands.
The 35th Battle of the Rocks ended in a draw leaving Annites yet another year away from a maiden triumph. The "Dialog Challenge Trophy" ending up in the hands of Devan's who previously won in 2014 and Annites continued their winless streak.
The 23rd limited overs encounter between the two sides is scheduled to commence tomorrow (8th April 2018), from 9.30 a.m. onwards at the Welegedara Stadium, Kurunegala.
Catch the LIVE & EXCLUSIVE action on ThePapare.com from 9.30am onwards.
35TH BATTLE OF THE ROCKS 2018

St. Anne's College, Kurunagala 1st Innings 236 for 9d (65.4)

Dananjaya Bandara 57, Pubudu Ganegama 33, Wanitha Wanninayaka 32, Randira Ranasinhe 30 Naveen Maduranga 3/60, Sanjeevan Priyadarshna 3/46

Maliyadeva College, Kurunagala 1st Innings 86 all out (27.3)

Chaluka Atapattu 13, Dulaj Ranatunga 13, Wanitha Wanninaayaka 4/33, Randeera Ranasinghe 3/27, Pubudu Ganegama 2/15

Maliyadeva College, Kurunagala 2nd Innings 167 for 6 (51.1) (F/O)

Mudhitha Premadasa 48, Dulaj Ranathunga 69*