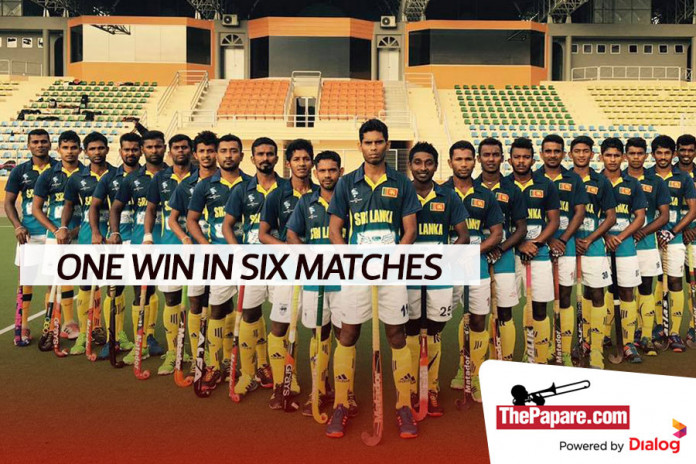 The Sri Lanka Men's hockey team that took flight to Bangladesh for the World League Round 2 championship tie finished 7th out of 8 in the overall points table winning only one match in the entire series.

The Sri Lanka men's hockey team left the island for Bangladesh ahead of the World Series Round 2 championship that will take place from the 4th to the 12th of March 2017…
The Sri Lankan team was grouped alongside Egypt, Ghana and China in their group stage. The Sri Lankans were unfortunate not to win a single group stage game and missed out on a possible victory against Ghana.
Sri Lanka started their campaign facing Egypt and ended up suffering a 6-2 loss. Later on facing Ghana, the Lankans gave a strong fight in the second half but could not win it as Ghana's Johnny Botiso slotted in a late goal. Ghana won the game 5-4.
For Sri Lanka it was Anuradha Rathnayaka, Ishanka Doranegala, Abeetha Fernando and Pushpa Hendeniya who scored the goals.
Facing China, Sri Lanka lost 5-1 but made it to the quarterfinals with the luck of the draw.
Sri Lanka was once again forfeited by Malaysia in the quarters losing it 5-2 and were later massacred 9-0 by hosts Bangladesh in the 5th-8th place draw.
It was disappointing to see Sri Lanka's performance having had a good showing at the AHF cup last year where the Lankan sticks finished as runners-up.
However, Sri Lanka registered a 5-3-consolation win in the final match of the competition which was against Fiji to decide the 7th and 8th spots.
It was the Fijians who scored first off the efforts of Smith Hector and Amila Nuwarapaksha soon equalized in the 10th minute. Two more goals from Shamika Gunawardena and a goal from Sandaruwan Sudusinghe sealed the game for the Lankans at full time.
Meanwhile, Malaysia ended up winning Round 2 of the Hockey World League alongside China who finished runners-up. It was China and Sri Lanka who got the promotion from the 1st round last year and China now await the promotion to the top tier having excelled in Round 2.
A win and five losses is nothing to write home about and Sri Lankans 9-0 loss to Bangladesh will be something that they would want to forget.
Sri Lanka along with Fiji will most probably be demoted back to the World League  Round 1 next year to work their way back to the second tier.