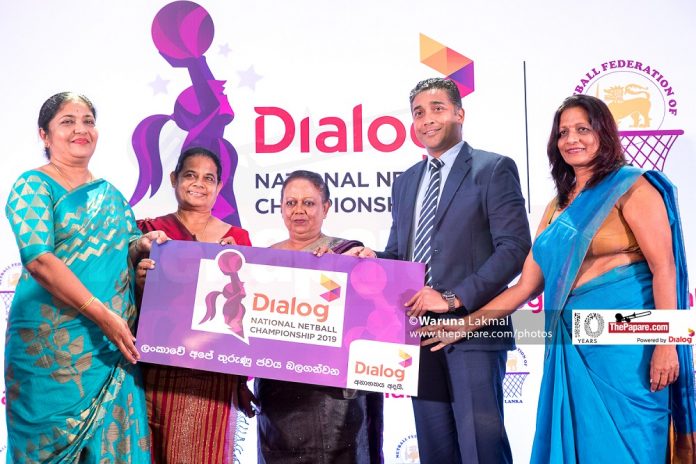 Sri Lanka's premier connectivity provide, Dialog Axiata PLC, continuing in its promise of uplifting sport in Sri Lanka, has come forth once again to power the Dialog National Netball Championship, Sri Lanka's premier domestic Netball Championship, for the 2nd consecutive year.
The national tournament will be worked off on the 14th and 15th of December at the Anuradhapura Mahajana Kreedanganaya while the Junior Nationals are set to take place over this weekend (29th November – 2nd December) at the Torrington Grounds in Colombo.
Air Force SC will take on Hatton National Bank in the Final of the Dialog National Netball Championship 2018…..
In a bid to grow the sport further, the Sri Lanka Netball Federation has sought to strengthen the youth ranks in the recent past. The Junior Nationals are set to feature an unprecedented number on 42 teams, including teams from the Northern and Eastern Provinces. The tournament will feature players below the age of 21 in an effort to build a pool for the World Youth Netball Championship which is scheduled to be held in Fiji next year.
The 42 teams in the Junior Nationals will be divided into 4 groups, with two from each group progressing to the knockout stage of the tournament. Each 1 round match will be played for a full duration of 20 minutes (2 halves of 10 minutes each), while the knockout rounds will be played for 40 minutes (4 quarters of 10 minutes each).
The tournament structure for the Senior Nationals are yet to be announced.
Hatton National Bank (HNB) outclassed and outplayed Air Force SC 47-27 to win the final of the inaugural…..
A media conference regarding the tow tournaments was held today (26) at the Galadari Hotel in Colombo, where the assistant Secretary of the SLNF gave a brief breakdown of the tournament, mentioning that players, coaches and umpires who performed well at the tournament stand a chance to be given the opportunity to travel abroad to enhance their skills while winners at the tournament will also receive cash prizes.
Speaking to the, President of the Sri Lanka Netball Federation had high praise for principle sponsors Dialog Axiata, "Netball as a sport has benefitted immensely with the commencement of the Dialog National Netball Championship last year as players from across the country now have an opportunity to display their talent and skills."
The inaugural Dialog National Netball Championship was a resounding success last December as well, as Netball powerhouse Hatton National Bank claimed the title after defeating Air Force in the grand Final 47-27.