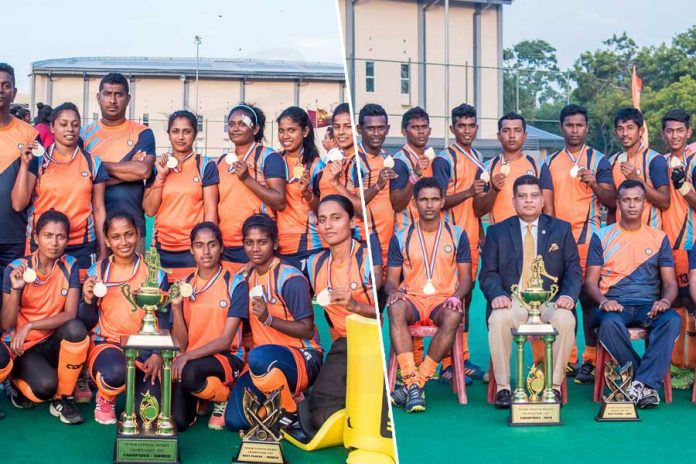 The Hockey Men's Senior Nationals and Women's Nationals concluded last evening (21) at the Astro turf. Both Men's and Women's championships were won by the Defense Services hockey team which included players from Army, Navy and Air Force.
The Colombo Hockey Association and State Service teams won the first runners-up in Women's and Men's category at this tournament.
Here's a look at what happened.
In the Men's finals, Defence Services was able to grab control over both the defensive and offensive aspects in the very first minute L. Weerasooriya of Defence Services scored the first goal against State Services since the latter took time to settle down in the game. In the 8th and 10th minutes Jayasundara and Suresh of Defence Services scored one goal each which increased the deficit. Many of the attempts made by State Service failed since Defence Service had strong defensive strategies in place. Once again Wijesinghe and De Silva scored one goal each for Defence team in the second half and helped them to a  5-0 win.
In the Women's final, the Defence team once again registered their victory easily with a score of 6-0 against Colombo Hockey Association. It was their experience, skills, coordination and speed which took them to great heights in this tournament as they remained the only unbeaten team at the Women's Nationals tournament. I. Weerabahu and M. Jayaneththi scored 5 goals between them while P.Upeksha scored one goal for her team.
Even though Mercantile Hockey Association was beaten by State service in the Men's semi-finals they managed to grab the 2nd runners-up by beating Colombo Hockey Association while recording a score of 6-1. In the Women's category, Kandy Hockey Association won the 2nd runners-up trophy by recording their victory against Sri Lanka schools with a score of 2-0.
In the Men's category, D. Kulathunga was awarded the best player while G. Damayanthi won the Women's category best player award at this tournament.