It was time for Allan Border and Co. to taste success for the first time in history. It wasn't the easiest of runs as competition was at its tightest partly due to the emergence of new powerhouses. For the first time, the tournament was held outside England as hosting rights were handed over to the subcontinent. Mumbai based company 'Reliance' sponsored the fourth edition as India and Pakistan were granted the opportunity to host the event.
The formats were unchanged from 1983 except for a reduction of overs from 60 to 50 as the maximum quota of overs for a bowler was reduced to 10. Once again, Zimbabwe took part as minnows earning the berth after defeating Netherlands in the 1986 ICC Trophy where they were joined by the 7 test playing nations. 27 games were played in 19 venues across both India and Pakistan while 'Cricket's Answer to the Colosseum', the Eden Gardens in Calcutta was prepared to stage the grand finale. For the first time in World Cup history, neutral umpires were introduced.
Hosts summit both Groups
India and Pakistan topped both the Groups A and B despite a solitary loss against Australia and West Indies respectively. Australia, who were on equal points with India in Group A, fell behind the superior net run rate, mainly due to India's crucial 9-wicket win over New Zealand in their last game which was decorated by Chethan Sharma's hat-trick and an impressive century by Gavaskar. England, without Ian Botham and David Gower twice snapped West Indies to secure their spot.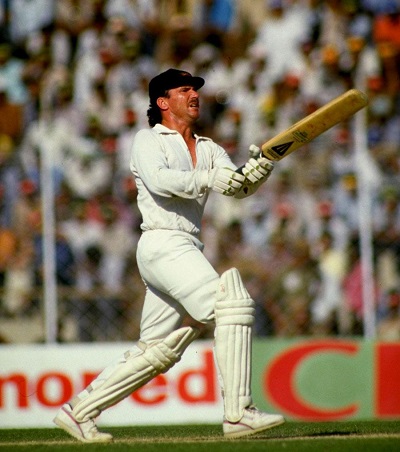 The opening contest featured two Asian sides as Pakistan took on Sri Lanka on 8th October 1987 at Niaz Stadium, Hyderabad. After winning the toss, Pakistan opted to bat first. The hosts posted 267/6 in their 50 overs which was highlighted by Javed Miandad's stylish century. His 103 runs came in 100 balls while the other end was anchored down by Rameez Raja who scored 76. Rumesh and Ravi Ratnayake got two wickets each. The reply was tarnished by regular wickets but young Mahanama's courageous 89-run inning attempted to cause the upset. Along with Gurusinghe, the pair added 79 runs. Imran Khan's 100th wicket hampered Aravinda de Silva's quick-fire 42, eventually securing a 15-run victory for Pakistan. The economical spell of Abdul Qadir resulted in 2 for 30.
Late rebounds light up Gujranwala
1983 runners-up and two-time Champions West Indies faced their rivals England in a hotly contested game at the Municipal Stadium Gujranwala. Batting first, the Windies made 243/7. Despite Richie Richardson's half ton, they were restricted by some tight bowling. The score read 151/4 when they produced 92 runs in the last 10 overs with Gus Logie and Roger Harper chipping in with 49 and 24 to take them to a total that looked improbable. Derek Pringle's expensive stint cost 83 runs with 22 runs coming off his last over. Neil Foster took 3 for 53. The chase began slowly but skipper Gatting and Graham Gooch put up 58 in 9 overs. But Gatting was rattled by Carl Hooper, who also sent back Gooch and Pringle in quick succession, leaving England at 123/5. West Indies held firm until Allan Lamb was fused with John Emburey and Phil DeFreitas to undertake the implausible. They smashed the ball willingly, taking the game beyond West Indies' control. After gaining 67 in 7 overs, the target stood at 35 from the last three overs. Walsh went for 16 but Patterson's last over conceded just 6, leaving 13 runs still needed in the last over. However, Walsh's nightmare continued in the last over when the game was sealed in the third delivery, procuring a 2 wicket win for England.      
A 'Bollywood Blockbuster'
India met Australia in Chennai on 9th October to induce another memorable game. Kapil Dev won the toss and decided to field first. Openers Geoff Marsh and David Boon added 110 runs before Shashtri removed Boon for 49. But Marsh continued his journey with Dean Jones and Allan Border to reach his century. Marsh grappled with the heat and high humidity for more than 3 hours, eventually falling for 110. But the tough innings had already paved the way for a competitive total of 270/6. Dean Jones' 39 came in 35 balls. One of his two sixes were signaled as four, but Kapil insisted that it cleared the boundary. Manoj Prabhakar captured 2 while Roger Binny, Maninder Singh and Shasthri shared a wicket each.
The strong response saw India cruising at 200 for the loss of only 2 wickets. Srikkanth's 70 was followed by a refined 73 by Navjot Sidhu. At 207, Craig Mcdermott dismissed Sidhu to unveil the curtains for a thriller as the strong middle order collapsed to his pace. However, with four wickets in hand, India needed just 15 from the last 4 overs. But the lack of composure resulted in two run-outs and when the last over began, the requirement was 6. Last man Maninder Singh managed two 2s, but Steve Waugh's following delivery removed his off stump, edging a 1 run victory for the visitors. Kapil Dev's sportsmanship was commended, a gesture that later was proved vital for the outcome of the game.
Skipper Vivian clobber the Lions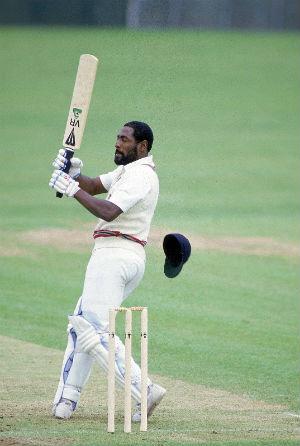 On October 13th at Karachi, West Indies annihilated Sri Lanka with a massive 191-run win. At 45/2 and with Ravi Ratnayake on a hat-trick, came in Richards to join the opener Desmond Haynes to take the Lankan bowlers for a brutal assault. Haynes was halted at 105 by Gurusinghe but Richards continued his onslaught, storming to 181 in just 125 balls, the individual highest score in a World Cup innings. The raid included 16 fours and 7 gigantic sixes. Viv's stupendous display saw them amass 360/4, while the Sri Lankan reply stood at 169/4 in the end.
'Billy' seals Pakistan's fate, England shatter Indian hopes                        
Lahore hosted the first semi-final between Pakistan and Australia on 4th November. A fluent 65 by David Boon became the top score when Australia got a decent 267/8. Mike Valetta, Dean Jones and Geoff Marsh made important contributions, scoring 48, 38 and 31 respectively. A late charge by Steve Waugh exhibited 32 off 28 balls which contained 18 runs off Saleem Jaffer's over. Pakistan's run chase got into an onerous start, losing three wickets in 10 overs. McDermott clean bowled Mansoor Akhtar before removing Saleem Malik with a catch at extra-cover off Waugh's bowling. Skipper Khan and Miandad revived the innings to give a glimmer of hope as the pair added 112 runs in 26 overs. Although Khan departed for 58, Miandad remained battling hard but Bruce Reid dismissed him for a hard-fought 70. McDermott, fondly known as 'Billy', swept the tail with his pace and accuracy, eventually taking 5 for 44. Pakistan fell 18 runs short of the target, as they were bowled out for 249. Australia reached their second final while Pakistan was knocked out of the semi-final for the third time.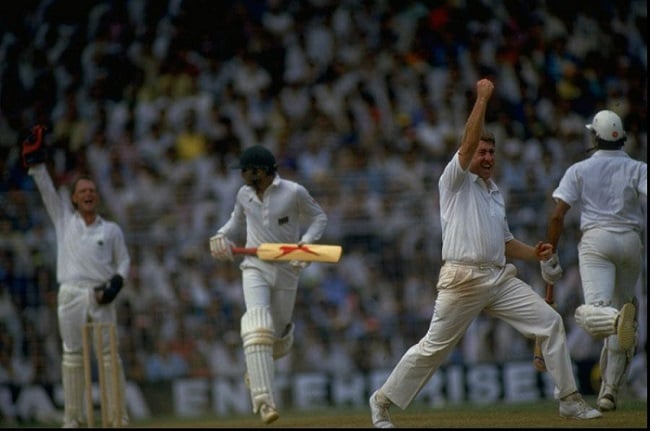 Hopes of the other host nation was dashed on the following day when England beat defending champions India by 35 runs at Wankhede Stadium in Bombay. England were put into bat on a dodgy pitch where Gooch and Gatting produced 117 in 19 overs. The pitch, favouring spin bowling, thought to be India's strength was countered elegantly. Gooch's 115 in 136 balls led England to 254/6. The resulting 254 proved too much for India and despite Azharuddin's 64 and Dev's late storm of 30, India were all out for 219 in 45.3 overs. Hemmings took 4 for 52. England confirmed their place in the final with Australia as both teams were eager to avenge their previous World Cup defeats to West Indies.
Australia rejoice at Cricket's Colosseum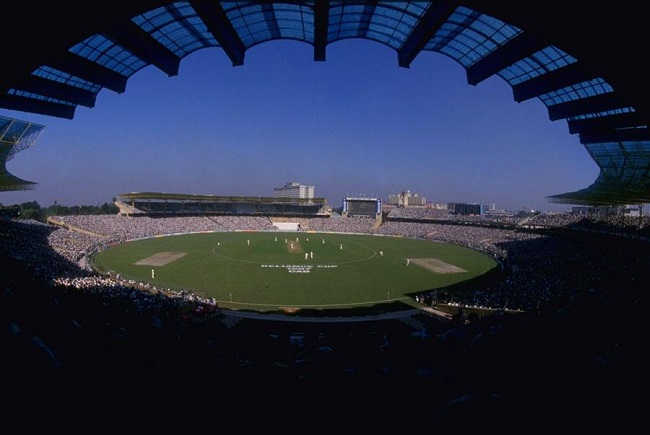 On Sunday, 8th November 1987 arch-rivals England and Australia graced the majestic Eden Gardens in Calcutta, packed with 70,000 spectators. Allan Border, won the toss and decided to bat first, as most teams had done throughout the tournament. In the days where 'pinch-hitting' wasn't a trend, David Boon and Geoff Marsh processed 52 runs in the first 10 overs. Foster dismissed Marsh for 24 and began to repair the damage but Boon continued his flow, yielding a classic 75-run inning which provided the backbone for the Australian innings. The score read 151/1 when Hemmings sent back Dean Jones for 33, later removing Boon with an edge to the wicketkeeper Paul Downton. Later the skipper was joined by Mike Valetta, who annexed 45 runs off 31 balls. The forgotten cameo by Valetta saw Australia reaching 253/5.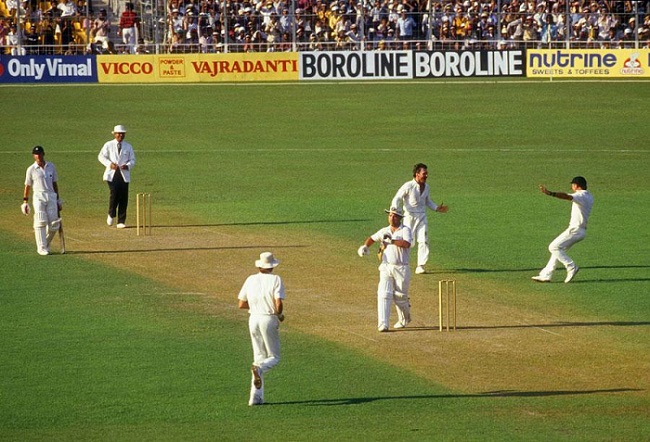 It seemed very obtainable, as England were racing at 135 for 2 when captain Mike Gatting made a fatal error that perhaps cost them more than a wicket. With conventional wisdom, Gatting was not known for his risk-taking, until he chose to play a reverse sweep against his opposite number Allan Border. The ineffectively executed shot found the gloves of Greg Dyer, sending him back to the pavilion for 41. England began to struggle from then, and although Allan Lamb's resilience was depicted with 45 runs, 17 runs off in-form McDermott's last over was doubtful. England ended on 246/8, falling a mere 7 runs short of the target. Waugh and Border captured 2 wickets each. David Boon was named 'man of the match'. Graham Gooch who scored 471 became the highest run-getter in the tournament while 22-year old McDermott topped the bowlers list with 18 scalps.
It was time to rejoice for the Australians as they requited for the loss in the inaugural tournament. Border's men who were barely rated at the start of the tournament, came out with a supreme all-round performance to earn the most celebrated award, marking the rise of a new giant in World Cricket.                                            
All Pictures – Courtesy of Getty Images