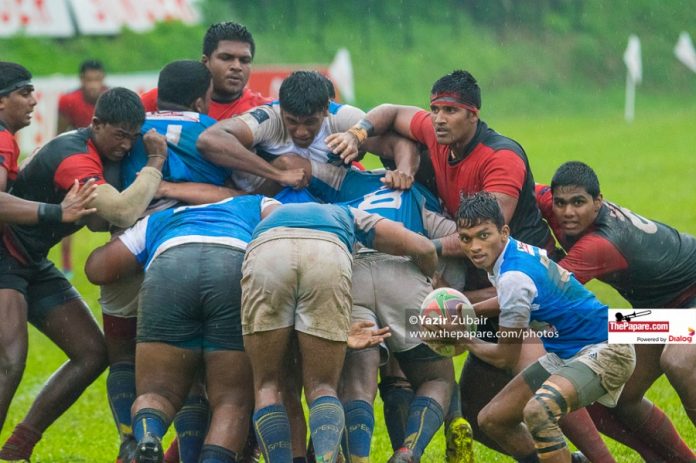 The exhilarating encounter between the two rivals Kandy Reds and Colombo Blues will see its 2nd leg played out this Saturday 20th Oct 2018. Colombo Blues will host the second leg after winning the first 14 to 12 points in Nittawela, Kandy.
Kandy had the best start they could have expected in their own den last weekend. However, the Colombo Blues played it smart after getting a slender 2-point lead and managed to come away with the win. Although the lads from the hill capital were heartbroken after missing a penalty under the posts in the dying minutes that could have given them the win, they had a pretty good outing compared to the previous years.
It's fair to say that Colombo were surprised by a spirited Kandy outfit in Nittawela. The Colombo Blues were very well equipped but the game was marred by errors in a stop start affair where there were a total of 26 scrums. This was mainly because of the slippery and muddy underfoot conditions prevalent.
This time around, Colombo will be on the look-out for a dominant performance, given the home conditions and the depth of their squad. Players like Himantha Hirushan, Ifam Fareed, Janidu Dilshan, Gemunu Chethiya are likely to start in the important fixture with the others being rotated around them like coach Lewke opted to do in the first leg with players like Sabar, Maduwevan, Tharindu De Alwis and Rukshan Madusanka.
The Kandy Reds are yet to win the encounter since they last clinched the trophy in 2013, as the Colombo Blues have been dominating the field since the first encounter in 2011. This year as well, Colombo were the favorites to win as the Blues had the better team on paper.
Senior campaigners like Naween Rajarathnam, Maleesha Madumewan, Vishwa Ranaraja, Rashmika Chandrarathnam, Daiyan Sabar and Rukshan Madushanka proved themselves with their class in the first game that had too many mistakes to begin with.
The coaches opted to use a rotation policy for all their players giving game time to every player possible. All the players from both sides got the opportunity to show the selectors what they are capable of and earn themselves a chance of getting into the U20 Sri Lanka squad.
If the rain prevails come this Saturday, Kandy will be hoping for a repetition of last week's performance, but this time they would hope to end on the winning side. Colombo will surely look a different outfit at home and won't be an easy outfit to deal with. Rathmalana is known for its strong winds and we are surely going to see a lot of up and unders being used by the kickers and full backs.
The second leg will kick off at 4.00pm on the 20th of October at the Air Force grounds in Rathmalana. Stay logged onto ThePapare.com for more updates and live coverage!