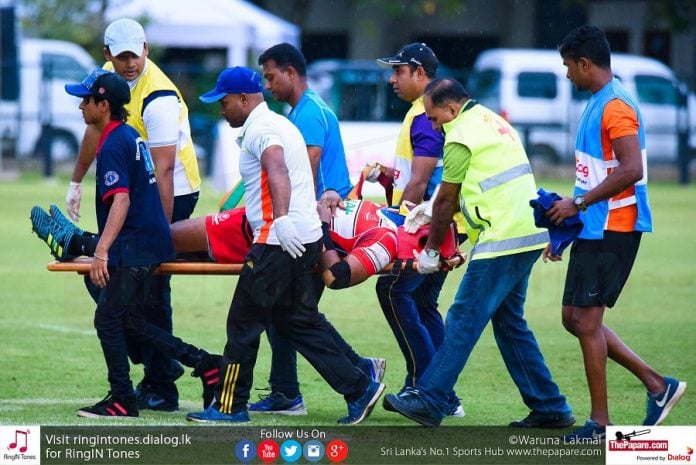 Chathura Dilshan sustained a head injury in the opening game of the Dialog Rugby League 2017/18 and is set to miss the first round of the League.
The first game of the club rugby season 2017/18 kicked off last Saturday where Kandy took on CH & FC on the season opener.
During the game Chathura Dilshan the former Isipathana and Navy SC number 8 was carried off the field due to a head knock while trying to gather the loose ball that popped out from the back of the scrum.
He was inspected on the field and stretched off soon after. Following the game he was taken to the General Hospital for further inspection.
After extensive inspections and scans the hospital authorities decided he needed 32 stitches to his lips due to a severe which occurred on field. He is still recovering at the hospital and will be out of play for at least 3 months.
Chathura Dilshan was the first choice number 8 for the CH club and is a disappointment to see the youngster being stretched off at the beginning of the new season having only played less than quarter of the first game of the first match. He was able to break away from the back of the scrum and was beginning to cause some issues to the Kandy defence when he had to leave the field due to the injury.
ThePapare wishes the young lad a speedy recovery!