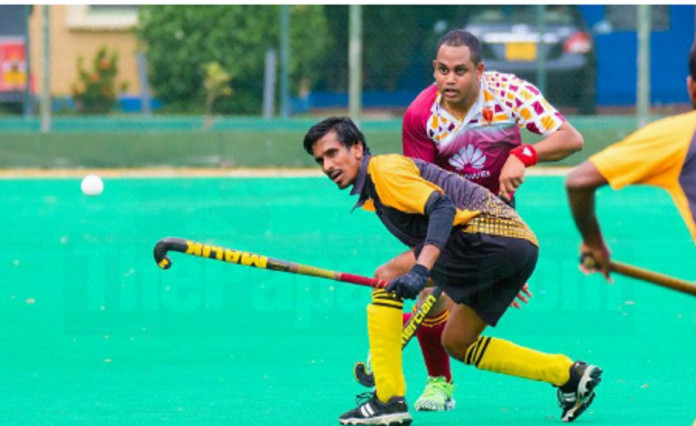 The annual Colombo League Hockey tournament which is organized by the Colombo Hockey Association started off last week at the Colombo Astro turf.
The first scheduled match for today was between University of Jayawardanapura and Old Ben's S.C. It was Old Ben's who took control over the ball and was leading from the very start of the match. University of Jayawardanapura implemented offensive strategies but was unable to beat the strong defence of Old Ben's. However, Ashan Alles of Old Ben's scored two goals against UOJ in the second half and won the match.
In the next match that took plac  between Old St. Thomas and Old President's Hockey Club displayed very good skills and they played a very fast game throughout.  Old St. Thomas won the match by 3 goals and unfortunately, Old President's Hcokey Club was able to score only one goal.
The first match in the Women's category for the day was between University of Jayawardanapura Colts Club. In the first few minutes both teams played very energetically and as time passed Colts Hockey Club started changing their game patterns therefore they were able to take the lead by scoring the first goal of the match. The final results showed that Colts Hockey Club won the match by 3-0.
CH & FC  'A' took down Old Ananda stickers with precise tactics in the following match. CH & FC 'A' were leading in the first half and went on to win the match by 7 goals to two. Upul Fernando scored 5 goals in a row while Geemal Dias and Rangana Wijerathne scored two goals each to reduce the deficit.
The game between KDU and the Old Joes Hockey Club was one of the fast and energetic matches in the men's category and KDU won the match by scoring one goal and keeping Old Joes Hockey Club goalless with a very tight defensive effort.
The match between CH & FC 'B' and Old Royal was one of the most exciting matches that took place today after the lunch break. The reason was both teams had experienced players who have played hockey since childhood. Both teams could not get any goal till the first half ended but as the second half started Old Royal took the lead by scoring one goal. The game between these two teams was very tight and it ended as 1-0 making Old Royal the winners.
The final match of the day took place between University of Moratuwa and Malay's Hockey Club. From the start of the match Malay's showed a very aggressive game and they took the lead by scoring two goals in the first half. University of Moratuwa was able to score one goal. However, the final score was 1-6 which made Malay's the winners.