The rivalry of Ladies' College and Visakha Vidyalaya in the waters will once again come alive for the 13th successive year as the Visakhians are on the hunt for their sixth consecutive M. N. Edussooriya title at the Sugathadasa Stadium this Friday.
The Ladies College vs Visakha Vidyalaya rivalry in the sport of Water polo commenced in the year 2004 when the two schools came together for a fixture. Over a decade, the LC-VV Water polo encounter has transformed to be one of the main water polo fixtures in the country, attracting a huge audience annually.
Named after Visakha's past Principal Mrs M. N. Edussooriya, the first encounter of its kind ended up in a draw. Since then, it has been Visakha who have had the upper hand, winning eight of the 12 encounters while Ladies were successful on three occasions.
Series Tally
| | | | |
| --- | --- | --- | --- |
| Year | Ladies College Captain | Visakha Vidyalaya Captain | Winner |
| 2004 | Thanuja Fernando | Harshini Warnapura | Drawn |
| 2005 | Meneka Mendis | Romali Tudawe | Ladies' College |
| 2006 | Isuri Beneragama | Shahill Gomez | Visakha Vidyalaya |
| 2007 | Manisha Rajanayake | Lukshani Rathnayake | Visakha Vidyalaya |
| 2008 | Gabrielle Mohammed | Ravindi Dharmdasa | Ladies' College |
| 2009 | Savera Weerasinghe | Charindee Weerasinghe | Visakha Vidyalaya |
| 2010 | Enakshi Wickramanayake | Elisha Gomez | Ladies College |
| 2011 | Sachini Rajanayake | Shivani Gunawardena | Visakha Vidyalaya |
| 2012 | Dharithri Amarasekara | Limashi Kosgodage | Visakha Vidyalaya |
| 2013 | Haiqa Mohammed | Tusari Ekanayake | Visakha Vidyalaya |
| 2014 | Nidheesha Ellawala | Aneka Abeywickrema | Visakha Vidyalaya |
| 2015 | Shanelle Wikramanayaka | Shaleena Peiris | Visakha Vidyalaya (10-5) |
Visakha's 'five-peat'
The 2015 encounter saw Visakha Vidyalaya dominating for the fifth successive year as the Shaleena Peiris led Visakha team defeated their counterparts 10-5 at the Police Swimming Pool. It was an all-round performance by the Visakhians as they started their dominance in the third quarter of play with Shaleena Peiris together with Tusari Ekanayake completing the onslaught.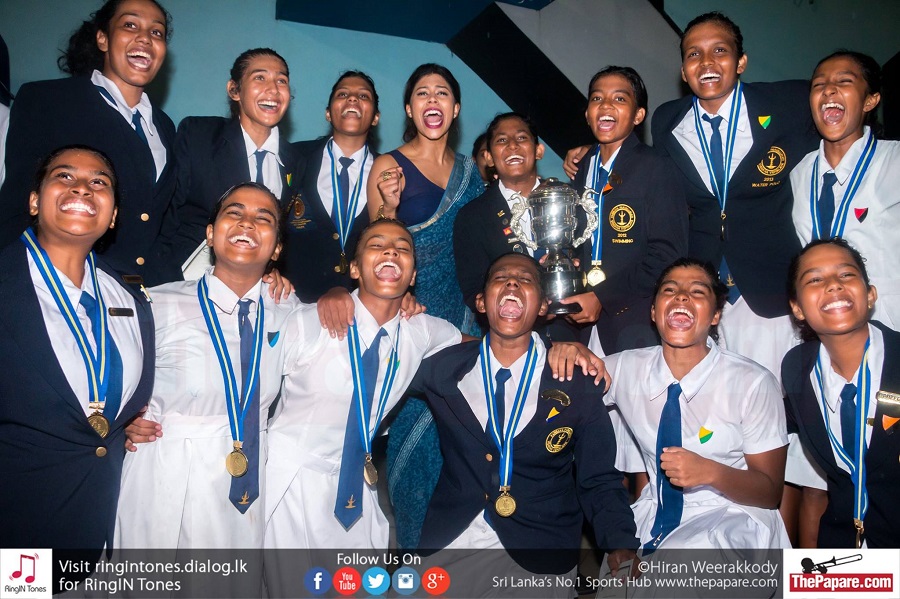 Experienced Visakhian outfit
The Visakhian team for the 13th Edussooriya will be compiled of an experienced playing outfit comprising three of their past captains. Captaining the side will be Sri Lankan cap Nadishka Senanayake, who has six other players who represented the national side in the recently concluded South Asian Aquatic Championship, under her.
With the supportive Shaleena Peiris along with Tusari Ekanayake on Visakha's frontline, Ladies' College will need to up their game in the defences.
Ladies' College look for redemption
It has been almost six years since the M. N. Edussooriya silverware saw the likes of the Flower road institution and this year's Ladies' College team led by Sashi Weerawarana will be looking to defy the odds.
Sashi, a Sri Lankan national cap will have the likes of the attacking prop Shenara David at her convenience to go for goals but Ladies' will have to put up one of their best efforts to turn tables around this year.
Along with Sashi Weerawarana and Shenara David, the Ladies team also comprises of five other national caps including goalkeeper Ashmeetha Cooray.
The change of venue from Police park to Sugathadasa Stadium shouldn't make too much of a difference for the players since Sugathadasa has been a regular venue for all water polo tournaments.
ThePapare will be bringing you live action from the 13th Annual LC-VV Water polo encounter on the 28th of October 2016 from the Sugathadasa Swimming Pool Complex from 3.30 p.m. onwards on www.thepapare.com, Dialog TV Channel 1 & My Tv.
Watch Live Below
Live from Sugathadasa Indoor Swimming pool complex on 28th of October 3.30 pm onwards.