The Sri Lankan badminton team currently in Bilbao Spain for the BWF World Junior had a disappointing finish to their mixed team competition after they lost all of their ties on the final day of the tournament ending up finishing in the 36th position of the team competition.

BWF World Juniors – Sri Lanka winless on day 1
The BWF World Championship which is the premier badminton event hosted by the international body started on the 2nd of November and concluded on the 6th. Sri Lanka was initially grouped with South Korea, Sweden and Alegria and later saw themselves relegated to the lower position playoffs that took place along with the main tie.
Junior Shuttlers win big against Norway and Lithuania
Sri Lanka played two ties in the final stage 33-40 playoffs on the 5th and ended up on the losing side. Sri Lanka lost out to Bulgaria in their first game losing 3-1 on the overall match count. Sri Lanka also lost the Mixed Doubles event, the Men's Single but captain Buthmi Galagamage brought the only win for the country winning the Women's Single.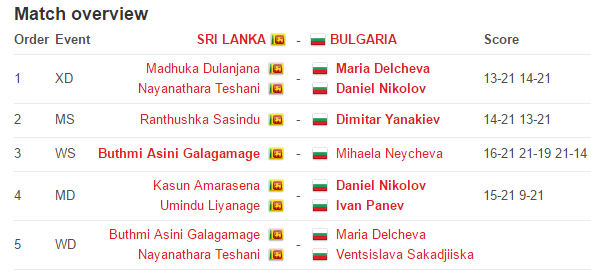 Sri Lanka's final hurdle in the competition was Peru in the third/fourth tie in the 33-40 position decider and that too went in favour of the South American country 3-0. Sri Lanka was effortlessly defeated and it was the Men's Doubles pair that provided the close fight to the Peru duo. Sri Lanka's Kasun Amarasena and Ranthushka Sasindu came out strong against Bruno Barrueto Deza & Jose Guevera to win the second set after losing the first but could not continuing the success as Peru won the game 21-18, 18-21, 21-14.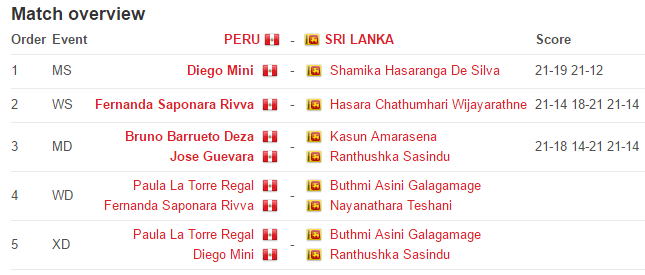 Sri Lanka, however, finished 36th in the overall competition that had the participation of 54 countries which is a positive to take out of this year's BWF World Juniors. China defeated Malaysia to win the BWF Junior title.
The individual competition is set to commence today at Bilbao, Spain starting at 9.00 a.m. ESP time.