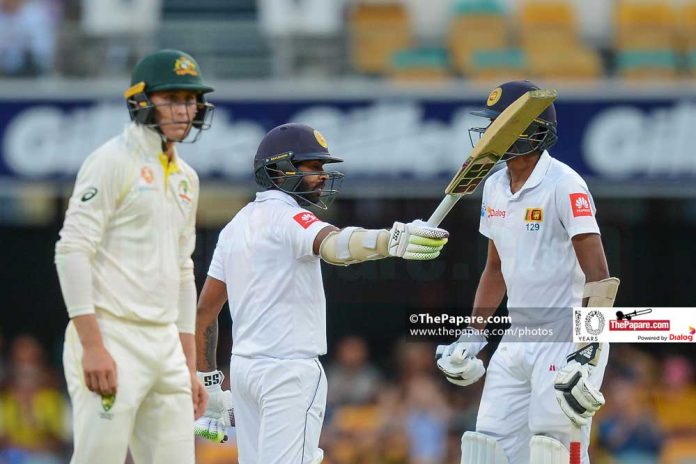 Another batting collapse and another disappointing day of cricket for Sri Lanka as Australia bossed the first day's play of the 1st day/night Test match in Brisbane.

The Aussie bowlers were clinical, ruthless and disciplined on a pitch which had plenty of assistance for the seamers with the pink ball. But, the Sri Lankans batted as if they have no idea of how to face quality fast bowling as they were bundled out for just 144 on a characteristic 'Gabba' surface.
The hosts in reply ended on 72 for 2 with Joe Burns and Usman Khawaja falling, after getting good starts.
Burns edged to second slip where Kusal Mendis took a low, diving catch off Suranga Lakmal, while Khawaja chopped one onto the stumps off Dilruwan Perera, ten minutes before the close of play.
Opening batsman Marcus Harris played and missed a few but had no troubles in overcoming the Lankan attack most of the time under lights. He remained unbeaten on 40, stroking five fours along with night watchman Nathan Lyon.
Read: Sri Lanka's best chance of a win down under? 
Earlier in the day, Niroshan Dickwella, the charismatic wicket-keeper batsman for Sri Lanka was the only player to resist the Aussie bowlers as he notched up a well-compiled 64.
The Lankan batting disaster was initiated by the rookie seamer Jhye Richardson, who was one of the two debutants in the Australian XI.
He swung the ball and consistently troubled the Lankan top order in the first session. But, it was Pat Cummins who was responsible for the initial breakthrough, dismissing Lahiru Thirimanne for 12. The left-handed opening batsman, playing his first Test since November 2017, edged a fuller length delivery to third slip in only the 11th over.
Sri Lanka skipper Dinesh Chandimal, who won the toss and opted to bat, came into bat at number 3 and became Richardson's maiden Test wicket with a casual poke outside off-stump, which induced the edge.
15 minutes before the tea break, off-spinner Nathan Lyon picked up the crucial wicket of Dimuth Karunaratne after he had seen off the new-ball and scored 24. The ball got big on Karunaratne as it grazed the glove on the way to the wicket-keeper.
Photo Album – Sri Lanka vs Australia 1st Test – Day 1
After tea, Richardson produced a peach of a delivery to castle Kusal Mendis as the ball straightened enough to beat the outside edge and hit the timber. He then edged out Dhananjaya De Silva, his third victim, to have Sri Lanka in deep trouble at 66 for 5 when Dickwella walked out with positive intent.
Cummins had the ball around Roshen Silva's outside edge quite a bit as he lived dangerously. Silva's 56-ball stay finally came to an end in the 43th over as another Sri Lankan batsman edged behind.
Dilruwan Perera was struck hard on his right thumb as Cummins continued with his short-ball barrage. But it was Mitchell Starc who dismissed both Lakmal and Perera to have Sri Lanka reeling on 106 for 8.
Dickwella slashed, ramped and swept his way to a well-deserved half-century as he counter-attacked to keep the scoreboard moving. He scored most of his runs through strokes which were played in the air and fell in the same way.
Cummins finished off the Lankan innings dismissing Dickwella and Dushmantha Chameera inside three deliveries.  
Sri Lanka have never won a Test match in Australia, having lost 11 of their 13 matches Down Under. Australia is undefeated in its past 29 Tests at the Gabba; its last loss was in 1988. The hosts after losing 1-2 against India in the recent home series, are ranked fifth in official ICC Rankings while Sri Lanka are at six having lost to New Zealand (1-0) and England (3-0) in their two most recent outings.
Sri Lanka's 1st Innings
Batting
R
B
Dimuth Karunarathne
c T Paine b N Lyon
24
70
Lahiru Thirimanne
c M Labuschagne b P Cummins
12
30
Dinesh Chandimal
c J Burns b J Richardson
5
7
Kusal Mendis
b J Richardson
14
44
Roshen Silva
c T Paine b P Cummins
9
56
Dhananjaya de Silva
c T Paine b J Richardson
5
17
Niroshan Dickwella
c K Patterson b P Cummins
64
78
Dilruwan Perera
c M Labuschagne b M Starc
1
16
Suranga Lakmal
c M Labuschagne b M Starc
7
4
Dushmantha Chameera
c K Patterson b P Cummins
0
20
Lahiru Kumara
not out
0
0
Total
144/10 (56.4 overs)
Fall of Wickets:
1-26 (HDRL Thirimanne, 10.2 ov), 2-31 (LD Chandimal, 11.6 ov), 3-54 (FDM Karunaratne, 21.6 ov), 4-58 (BKG Mendis, 26.3 ov), 5-66 (DM de Silva, 32.3 ov), 6-91 (ARS Silva, 42.4 ov), 6-93* (MDK Perera, retired not out ), 7-102 (RAS Lakmal, 45.4 ov), 8-106 (MDK Perera, 47.4 ov), 9-144 (N Dickwella, 56.2 ov), 10-144 (PVD Chameera, 56.4 ov)
| Bowling | O | M | R | W | E |
| --- | --- | --- | --- | --- | --- |
| Mitchell Starc | 12 | 2 | 41 | 2 | 3.42 |
| Jhye Richardson | 14 | 5 | 26 | 3 | 1.86 |
| Pat Cummins | 14.4 | 3 | 39 | 4 | 2.71 |
| Nathan Lyon | 16 | 3 | 38 | 1 | 2.38 |
Australia's 1st Innings
Batting
R
B
Marcus Harris
c L Thirimanne b L Kumara
44
88
Joe Burns
c K Mendis b S Lakmal
15
30
Usman Khawaja
b D Perera
11
29
Nathan Lyon
c K Mendis b S Lakmal
1
23
Marnus Labuschagne
c L Thirimanne b D De Silva
81
150
Travis Head
lbw by S Lakmal
84
187
Kurtis Patterson
lbw by S Lakmal
30
82
Tim Paine
c K Mendis b S Lakmal
0
1
Pat Cummins
c N Dickwella b D Chameera
0
21
Mitchell Starc
not out
26
25
Jhye Richardson
c D Karunarathne b D Perera
1
7
Extras
30 (lb 17, nb 5, w 2, b 6)
Total
323/10 (106.2 overs)
Fall of Wickets:
1-37 (JA Burns, 10.3 ov), 2-72 (UT Khawaja, 22.1 ov), 3-76 (M Harris, 25.6 ov), 4-82 (N Lyon, 28.4 ov), 5-248 (M Labuschagne, 78.1 ov), 6-272 (T Head, 89.5 ov), 7-272 (T Paine, 89.6 ov), 8-278 (P Cummins, 97.5 ov), 9-304 (K Patterson, 103.4 ov), 10-323 (J Richardson, 106.2 ov)
| Bowling | O | M | R | W | E |
| --- | --- | --- | --- | --- | --- |
| Suranga Lakmal | 27 | 9 | 75 | 5 | 2.78 |
| Lahiru Kumara | 15 | 5 | 37 | 1 | 2.47 |
| Dushmantha Chameera | 21 | 3 | 68 | 1 | 3.24 |
| Dilruwan Perera | 32.2 | 9 | 84 | 2 | 2.61 |
| Dhananjaya de Silva | 8 | 3 | 22 | 1 | 2.75 |
| Dimuth Karunarathne | 3 | 0 | 14 | 0 | 4.67 |
Sri Lanka's 2nd Innings
Batting
R
B
Dimuth Karunarathne
c T Paine b P Cummins
3
18
Lahiru Thirimanne
not out
6
18
Fall of Wickets:
1-17 (D Karunarathne, 5.6 ov)
| Bowling | O | M | R | W | E |
| --- | --- | --- | --- | --- | --- |
| Mitchell Starc | 2 | 0 | 2 | 0 | 1.00 |
| Jhye Richardson | 2 | 1 | 2 | 0 | 1.00 |
| Nathan Lyon | 1 | 0 | 5 | 0 | 5.00 |
| Pat Cummins | 1 | 1 | 0 | 1 | 0.00 |