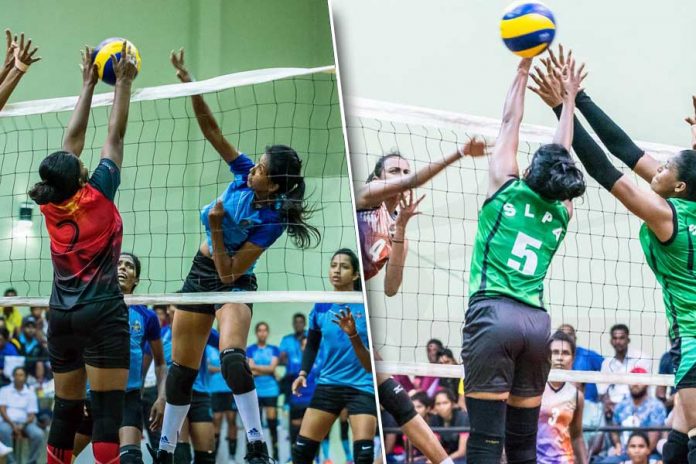 Air Force SC and Army SC defeated MAS Casualline (MASCL) and Sri Lanka Ports Authority (SLPA) respectively to qualify for the Women's Super League final of the 10th Munchee National Volleyball Championship 2017.
MAS Casualline, Sri Lanka Ports Authority (SLPA), Air Force SC..
The matches were played at the Kotawila Indoor Stadium in Matara.
Air Force SC v MAS Casualline (Women's Super League – Semi Final 1)
Air Force SC defeated MAS Casualline 20-25, 25-18, 25-22 & 25-20 to reach the final.
This was a repeat of last year's final, where Air Force outplayed MAS Casualline 25-12, 25-10 & 25-19. However, this time it was a different game as MASCL matched Air Force SC, littered with many a national player, point for point.
Photo Album: Air Force v MAS Casualline – Women's Super League SF1 (Munchee National Volleyball 2017)
At one point Air Force led the 19-18 but MASCL surged ahead scoring five unanswered points and won the 1st set 20-25. Air Force had a slow start to the 2nd set but took a 13-10 lead midway through. They continued the momentum as a 12-8 run saw them winning the 2nd set to equalize at 1 set apiece.
The 3rd set was an intense affair as neither side let the other take a lead of more than 2 points till the end. At 23-22, the experience of the Air Force side showed as they closed out the set 25-22.
Another slow start to the 4th set let MASCL take an early lead but an injury to MASCL's Kusum Kumari Herath turned the tide in favour of Air Force. Air Force had a 7-point lead at 20-13 and though MASCL fought valiantly, the defending champions were able to win the set 25-20 and consequently the match.   
>> For more Volleyball news click here
Army SC v Ports Authority (Women's Super League – Semi Final 2)
Army SC defeated Sri Lanka Ports Authority 25-23, 25-21 & 25-16 to book a place in the final.
Ports had a number of former Sri Lanka national players, who had won the national championship 9 times in the late and early 2000's. The veterans against the youth of Army had a closely contested 1st set. At one time the scores read 22-22, but Army edged out their opponents to win 25-23.
Photo Album: Army v Ports Authority – Women's Super League SF2 (Munchee National Volleyball 2017)
The 2nd set was the same as the 1st where Ports kept Army on a tight leash. However, Army burst into life late in the set to win 25-21. Ports Authority's over dependence on current Sri Lanka cap Wasana Madumalee proved to be their downfall in the 3rd set. A score which read 9-10 at one time slipped out of SLPA's hands as Army raced to a 25-16 win.