The final school's Tennis tournament for 2018, the Arjan Perera Memorial Trophy 2018 concluded in gala form with 8 leading sporting schools taking honours. The tournament was played from the 2nd – 4th December at the Sri Lanka Tennis Association.
The annual competition is played in honour of the late National Tennis legend Mr. Arjan Perera and is played in invitational form for all Tennis playing institutions across the island. This year, 20 top schools from Colombo, Kurunegala, Negombo and Jaffna participated in the tournament, making for some fierce competition.
The tournament was played in two main age categories, the Girls and Boys Under 12 and 14, which further had three divisions under each age group.
Boys and Girls Under 12 Breakdown
The Boys Under 12 Division 1 was a three-way competition between S. Thomas' College, Ananda College and Royal College. Division 2 was competed amongst Ananda College, St. Peter's College, Thurstan and Royal College while 11 teams were in a grueling contest in Division 3.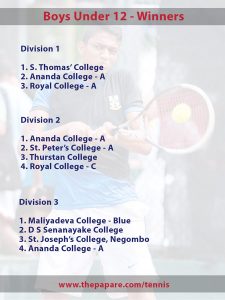 Division 1 of the Girls Under 12 category was similarly a three-way battle between Visakha Vidyalaya – A, Newstead Girls School and Ladies College. Division 2 had 5 entries and out of 2 Groups, 6 entries were pulled out for Division 3.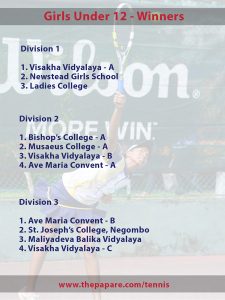 Boys and Girls Under 14 Breakdown
The senior girls and boys had a total turnout of 22 teams playing for glory across 3 divisions in each the Girls and Boys age categories. Ananda College dominated the 1st and 3rd divisions while underdogs from Kurunegala Maliyadeva College stole division 2.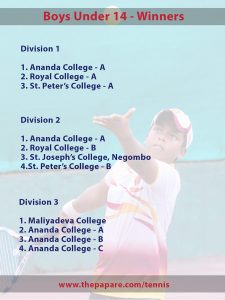 Ave Maria Convent, coached by Dumindu Dilum stood tall once again in Division 1 while Visakha Vidyalaya and Holy Family Convent shared victories in division 2 and 3 respectively.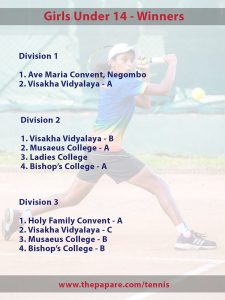 This will mark the end of the School's Tennis calendar for 2018, ranking and invitational.
>>Click here for all things Tennis<<