Andy Murray says he feels "very proud" to become the first British singles player to be world number one since computerised rankings began in 1973.
The Scot, 29, needed to reach the final of the Paris Masters to replace Novak Djokovic and did so when Milos Raonic pulled out before their semi-final.
Murray has reached 11 finals in his past 12 events, and has won 73 matches in the year, a personal record.
"I never thought I'd be number one in the world," he said.
"It's been many years of work to get here. It's been such a difficult thing to do because of how good the guys around me have been."
Murray will be officially confirmed as world number one when the revised rankings are released on Monday.
Novak Djokovic had topped the rankings for 122 weeks, and completed his career Grand Slam by beating Murray in the French Open final in June, his 12th major title.
Roger Federer (17) and Rafael Nadal (14) have won a combined 31 Grand Slam titles, many coinciding with Murray's rise through the rankings.
Murray won both Wimbledon and Olympic gold for the second time in 2016, and has also won the US Open and Davis Cup.
He will play John Isner in Sunday's Paris Masters final, after Raonic pulled out with an injury to his right quad. Isner beat Marin Cilic 6-4 6-3 in the first semi-final.
Djokovic, 29, would have retained his number one ranking had he reached the final – but Cilic beat him in the quarter-finals on Friday.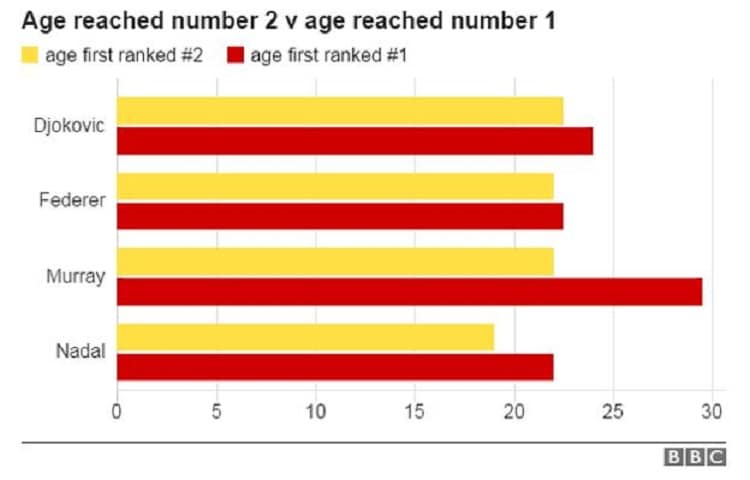 The stats behind Murray's rise to number one
He is the 26th man to hold the top spot since computerised rankings began in 1973.
A player's ranking is determined by his best 18 tournament results over the preceding 52 weeks.
Murray is the second-oldest player to debut at number one behind John Newcombe, who was 30 years and 11 days old when he achieved the feat in 1974.
Murray holds the record for the longest time between first becoming number two and becoming number one – seven years and over two months.
His seven stints at number two are tied with Mats Wilander and Stefan Edberg for the longest in the ATP's database of week-by-week records, which goes back to June 1984.
Seven players since June 1984 have never become number one after becoming number two: Michael Stich, Goran Ivanisevic, Michael Chang, Petr Korda, Alex Corretja, Magnus Norman and Tommy Haas.
Analysis
Russell Fuller, BBC tennis correspondent:
Raonic had ankle problems coming into this week. He has qualified for the World Tour Finals in London. He obviously wants to rest and protect that injury.
There's a huge sense of anti-climax, something you don't ever associate with Andy Murray. Think of the drama involved when he won Wimbledon for the first time, for that Davis Cup match and that gold medal match a few months ago. Without having to hit a ball he is assured of being at least five points ahead of Novak Djokovic on Monday. Despite the anti-climactic nature it is a magnificent achievement.
He has come from so far back to do this. He was over 8,000 points behind Djokovic when the French Open finished in June. That is a mammoth number of points. He's been on an incredible run since then. He can now call himself, just like his brother Jamie, a world number one.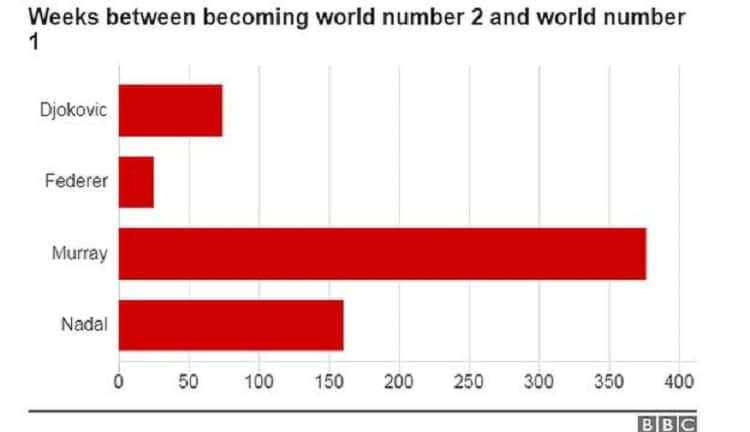 A landmark 12 months for Murray
November 2015: Helps Great Britain win the Davis Cup team event for the first time
December 2015: Voted BBC Sports Personality of the Year for the second time
February 2016: Welcomes first child as wife Kim gives birth to daughter Sophia
June 2016: Becomes Wimbledon champion for the second time
August 2016: Defends Olympic singles title in Rio
November 2016: Replaces Novak Djokovic as world number one
What they said
Murray's former coach Miles Maclagan: "He deserves to be among the likes of Boris Becker and John McEnroe – people who have won five, six, seven Slams and have been number one.
"He's got the three Slams at the moment but the two Olympics and the Davis Cup cement his place. He belongs among those greats."
ATP president Chris Kermode said: "Andy has shown incredible dedication, determination and hard work in his bid to get to number one.
"It's difficult to think of a player more deserving of this accolade – in one of the toughest eras in the history of our sport.
"He has had a phenomenal season and fully deserves this latest recognition, which confirms his status as the best player in the world."
Social media reaction