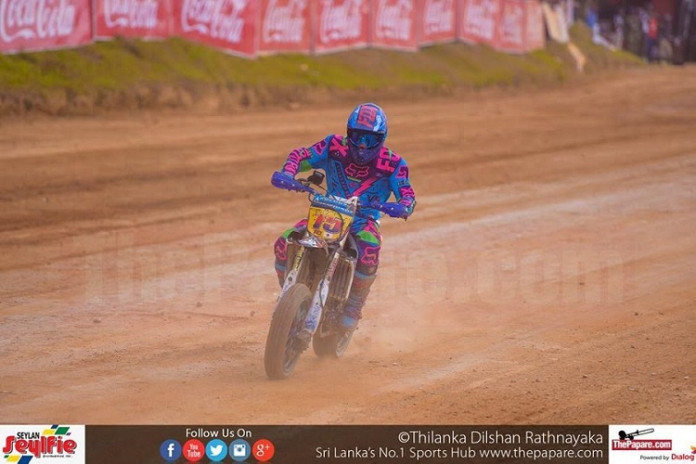 Flamboyant rider and pioneer in motor bike racing in Sri Lanka, Ananda Wedisinghe, who met with a fatal accident at the Nuwara Eliya road races earlier this year, will be honored at the Gajaba Supercross 2017 for the service he rendered to the sport and also in honor of the assistance he has supplied the Gajaba Regiment and Sri Lanka Army.
At a media briefing held on the 17th August at Sri Lanka Electrical and Mechanical Engineers headquarters regarding Gajaba Supercross 2017, adjutant General of Sri Lanka Army and Colonel of the Gajaba regiment Maj. Gen Shavendra Silva announced that a rolling challenge trophy will be introduced in honor of Wedisinghe and will be presented to the overall winner of the Group M Supermotard category.  Gajaba regiment will also name a spectator stand in honor of Ananda Wedisinghe that will be unveiled at the Gajaba Supercross race meet to be held on the 27th of August at Saliyapura Anuradhapura.
Wedisinghe was involved in a crash during the Group SM 450cc event at the Nuwara Eliya road races on the 24th April 2017. He was hooked onto a life support machine from the time he was transferred to the Intensive Care Unit (ICU) of the Kandy General Hospital until his passing on 29th May.
The incident took place during the Nuwara Eliya road races organized by Sri Lanka Motor Cycle club which has come under criticism as the safety measures taken to avoid unfortunate incidents like this has been reported as being below par. In 2008 driver Dilshan Bandaranayake faced a similar incident in his Austin mini which was fatal.  It is reported that Wedisinghe has been kept unmoved at the place where the accident happened for over 20 minutes before he was taken to the hospital by a fire brigade ambulance as the organizers had not made arrangements for an ambulance with trained medical personnel to be at the race.   It is also shocking to note that the corner marshal where the incident happened did not have a communication set and the eventual winner of the race had communicated the accident to the authorities in person.  This incident created a massive uproar on the safety standards present at the local race meets and have increased the scrutinizing of the necessary safety methods since.
It is a great gesture by the Gajaba Regiment for a rider who dazzled the crowds, be it the dirt track, tarmac or the road races. Ananda Wedisinghe is a household name in the racing community, known for his extraordinary stunts which attracted eager fans from around the country and for the passion he showed on the track. He was also adored by the motor racing fraternity as a kind hearted, fun loving character as there was never a dull moment when he was around.