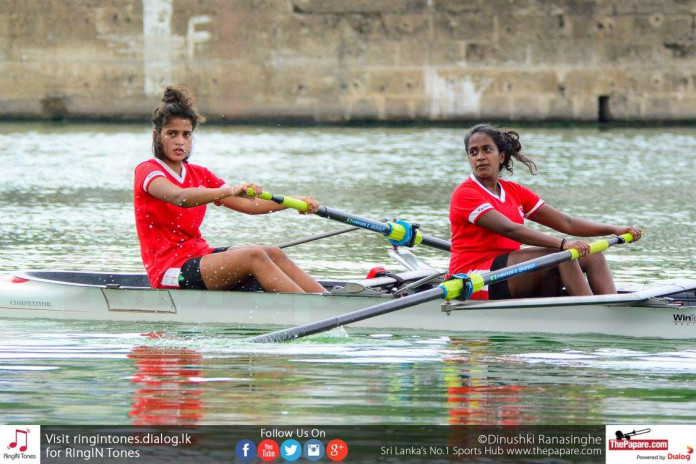 The Opening Regatta organized by the Colombo Rowing Club concluded this evening with what proved to be a spirited day of rowingon the waters of the Beira.
The Annual Opening Regatta marks the start of the rowing season of the Club, and aims to give the junior and intermediate rowers an opportunity to compete amongst each other.
The Regatta had an early start with the first race beginning 6.30 am, with the heats of the respective events. The crews of the Colombo Rowing Club, S.Thomas' College, Royal College, Ananda College, St. Joseph's College, Ladies College, Musaeus College and the University of Colombo battled it out over the waters which had good conditions for racing.
Ananda College emerged victorious in two of the three trophies that were on offer. Susith Alexander won the Gordon Armstrong scull event, while Thineth Jayasuriya and Dasitha Wickramasinghe won the Vanlangenberg pair event for Ananda. The highlight of the day, the HMS Enterprise Fours (Mixed Crews) was won by Tharindu Warnakulasooriya (AC), Shailindra Jayasekara (STC), Randira Bandara (STC), Jathu Rockwood (RC) and Shehan Akalanka (UOC).
In the Men's Under 14 scull event, Achintha Wanigasekara (SJC) met rampageous Avinash Rajaguru (STC) who managed to end the race with the bow balls aligned. The event was re-rowed and Avinash managed to secure first place for the Thomians. The day was wrapped up with the Masters Pair event and the awards ceremony.
The Regatta managed to put up a spectacular display of rowing and sportsmanship, especially from the youngsters who have a great future of rowing coming up ahead of them.
Results of the day's events are as follows:
• Men's Under 14 Scull-
Avinash Rajaguru (STC)
• Women's Under 14 Scull-
Anelka Karunaratne (LC)
• Men's Under 14 Four
Achintha Wanigasekara
Shenuk Jayaweera
Shaveen Silva (SJC)
Neluka Fernando
Sachin Arulanandam (Cox)
• Women's Under 14 Four-
Anelka Karunaratne
Ayani Perara
Esther Peramuna (LC)
Arshia Silva
Janindri Fernando (Cox)
• Junior Scull-
Maedhini de Alwis (MC)
• Junior Pair-
Shanon Perera (LC)
Jeshani Srikumar
• Junior Four-
Shanon Perera
Jeshani Srikumar
Kavisha Dassanayake (LC)
Ashvini Subasinghe
Ashmitha Guneratne (Cox)
• Masters Pair-
Maheel Gamage
Saishna Fernando