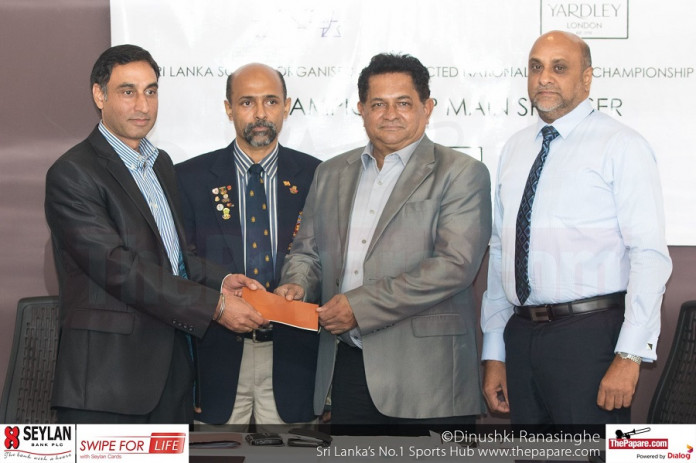 The National Squash Championship will come alive for the 36th successive occasion on the 17th of December this month as 82 players are set to take the Tamil Union Squash courts to battle it out to be the best in the country.
The national championship organised by Sri Lanka Squash will take place from the 17th to the 20th December 2016 and will have eight titles on offer. The Men's and Women's open titles will be the most looked forward to events.
Squash was initially introduced to the country in 1906 by the British and it was only in 1981 that the sport was recognised as a professional sport in the country patronised under the Ministry of Sports and accredited under the Asian Squash Federation.
The Men's and Women's title run will be a heavily contested event with top seed Mihiliya Methsarani looking to take home her fourth national title. The five-time junior national champion will be looking to regain the silverware that she won from 2012 to 2014 from last year's winner; Naduni Gunawardena. The Women's draw will have competition from the #2 seed Fathoum Issadeen and returning champion from 2011 Sharya Guruge.
Defending Men's champion Ravindu Laksiri will be looking forward to taking his fourth national title home having won it since 2013. There will be a close competition this year from the junior national champion Shameel Wakeel along with Druvinka Perera.
Speaking at the press conference held ahead of the national championship, Secretary of Sri Lanka Squash Lcdr. Priyadarshana Jayawardena added a few words on the development of the sport in the country.
"We are currently looking at establishing our own squash courts and starting an academy to expand the game. We have already spoken to the Pakistan government and they are willing to fund the project and provide us with coaches"
Currently, squash is restricted to the schools and clubs of Colombo and the national body believes that they can take the sport forward in the upcoming new year.