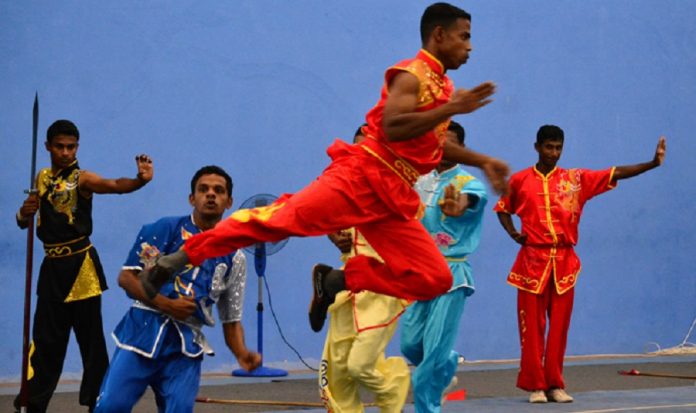 Sri Lanka's National Wushu team bagged a record 18 medals at the recently concluded 8th World Kung-Fu Championship held in Emeishan, China.
Over 4000 participants from 48 countries participated in the championship this year.
The 18 medals included 2 Gold, 6 Silver and 10 Bronze medals, spread amongst the 11 members who participated in the event. With a performance so superior, Sri Lanka has walked out as the first South Asian nation to achieve such stats.
Young Wushuite Pathum Poorna Vancuylenberg clinched the 2 gold medals at the start of the tournament. His teammates complimented the medals well thereafter, winning 6 Silver medals and 10 Bronze.
Manjula Manika and Viraj Denuka bagged two Silver medals each in their respective age groups. Manika competed in Group C and bagged his two silver medals in Nan Gun and Nanquan categories while Viraj Denuka competed in group D and clinched his medals in the same category. Dihen Vindiv and Jeevan Madduranga shared 1 silver medal each in Nanquan and Nan Gun categories.
Meanwhile, Dinuka Kaveeshan, K W Sanka Madura, W K Sarathchandra, Chamudu Kaushalya, Kaushalya Kavindi, Dihen Vidiv, Chenura Dissanayake, Ravindu Chanuka and Jeevan Maduranga bagged one bronze medal each.