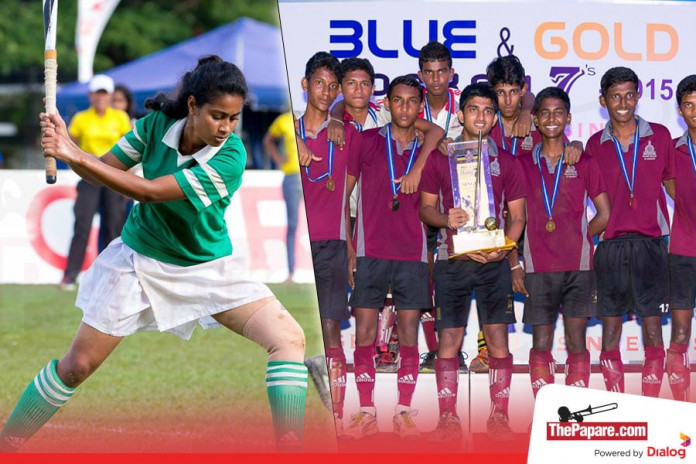 The 14th instalment of the Blue & Gold Hockey Sevens organised by the Royal College Hockey Club will take place on the 8th and 9th of October 2016 with the active participation of over 50 schools from around the country.
The Blue Gold Hockey sevens, the premier hockey sevens fixture in the schools' circuit, is the brainchild of the Royal College Hockey Club from way back in 1992 and since then has developed to be one of the most looked forward to hockey fixtures in the country. Starting from a humble beginning with the participation of 16 teams, the hockey fixture was later re-instated in the year 2002 and has continued uninterruptedly since then.
This year's tournament will feature schools from all around the country with teams from the districts of North and East as well. Last year's girls' competition was intense with the stronghold Seethadevi College Kandy facing Bishop's College Colombo. It was the Kandy girls who walked away with the title at the conclusion.
The Boys' cup final in 2015 saw St. Joseph Vaz Wennappuwa and Nalanda College Colombo meeting and at the end, it was Nalanda College who emerged champions.
Singer Sri Lanka will continue to empower the Blue-Gold Hockey Sevens carrying forward to the year 2016.
This year's competition will also have four titles on offer; Cup, Plate, Bowl and Shield in both Boys' and Girls' categories. The first day of play is scheduled to start on the 8th at 7.00 p.m. while the all-important finals will take place on the 9th from 2.00 p.m. onwards.
The participating teams will be as follows:
Boys'
| | |
| --- | --- |
| Ananda College | Colombo 10 |
| Asoka Vidayalaya | Colombo 10 |
| Bandaranayake College | Gampaha |
| Christ Church College | Matale |
| D S Senanayake College | Colombo 08 |
| Dharmadutha College | Badulla |
| Dharmaraja College | Kandy |
| Isipathana College | Colombo 05 |
| Kingswood College | Kandy |
| Maris Stella College | Negombo |
| Mahinda College | Galle |
| Nalanda College | Colombo 10 |
| Prince of Wales College | Moratuwa |
| Royal College – Golds | Colombo 07 |
| Royal College – Blues | Colombo 08 |
| Royal College | Panadura |
| Richmond College | Galle |
| St. Aloysius College | Galle |
| St. Benedict's College | Colombo 12 |
| St. John's College | Jaffna |
| St. Joseph Vaz College | Wennapuwa |
| St. Joseph's College | Colombo 10 |
| St. Peter's College | Colombo 04 |
| St. Sylvester's College | Kandy |
| St. Thomas' College | Matale |
| St. Thomas' College | Matara |
| St. Thomas' College | Mount Lavinia |
| Trinity College | Kandy |
| Vidyaloka college | Galle |
| Vidyartha College | Kandy |
| Vijaya College | Matale |
| Wariyapola Sri Sumangala College | Kandy |
| Wesley College | Colombo 09 |
| Zahira College | Matale |
| Zahira College | Colombo 10 |
Girls'
| | |
| --- | --- |
| Bishop's College | Colombo 03 |
| Christ Church College | Matale |
| Girls High School | Kandy |
| Gothami Balika Vidyalaya | Colombo 10 |
| Jaffna College | Vaddukkoddai |
| Janadhipathi Balika Vidyalaya | Rajagiriya |
| Ladies College | Colombo 07 |
| Musaeus College | Colombo 07 |
| Panadura Balika Maha Vidyalaya | Panadura |
| Pushpadana Girls College | Kandy |
| Rathnavali Balika Vidyalaya | Gampaha |
| Seethadevi Girls College | Kandy |
| Sirimavo Bandaranayake Vidyalaya | Colombo 07 |
| Sri Sangamitta Balika National School | Matale |
| Sri Sumangala Balika Vidyalaya | Panadura |
| St. Anthony's Girls College | Kandy |
| Visakha Vidyalaya | Colombo 05 |
| Vishaka Balika M V | Bandarawela |
| Viharamahadevi Balika Vidyalaya | Badulla |
| Yasodara Balika Vidyalaya | Colombo 08 |