The 2016 edition of National Para-Athletics Championship was concluded yesterday followed by an Asian record and fifteen more national records on the first and the second day.
Anil Prasanna Jayalath renewed his own Asian record for the T42 Class 200m men`s event as he clocked a timing of 24.03sec. The previous record was set by the man himself in the World Athletic Championship (Para) last year in Qatar which was recorded as 25.87sec.
Para-Athletic Championship – Final Day

Bhagya Lakmali was awarded the junior (women) best athlete award as she won three gold medals under her name and for her explicit timing in her events. She clocked 17.04secs for 100m event while she crossed the white line in the 200m with a timing of 40.31sec. She also won the long jump event recording a distance of 2.84m.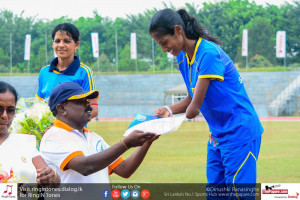 Both Amara Indumathi and Niluka Damayanthi shared the best athlete (women) award for their exceptional performances. Amara Indumathi won three gold medals and set a new national record in her event of 200m while Niluka Damayanthi too won three gold medals and set a new national record.
Dilan Hewa Muhamdiramge was awarded the junior (men) best athletic for his performances 100m and the shot putt. He clocked 13.44sec in 100m while he recorded a distance of 6.85m in the shot putt; where he won both the gold medals.
T.M.R Thennakoon won the award for the best athlete (male) as he set two national records. He clocked 25.5sec in his 200m race while he finished his 800m run in 2.2.63 min. He also clocked 12.49sec in his 100m dash. Winning three gold medals he topped the table with ease.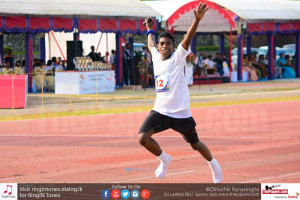 Both junior champions (women) and junior champions (men) awards were clinched by the Western Provincial Special Education Team. They bagged four gold medals, four silver medals and a bronze medal in the women's category and seven gold medals, three silver medals and a bronze medal in the men's category.
The championship award for women's category was won by the Rehab Sports Club as they got hold of eighteen gold medals and three silver medals throughout the three days.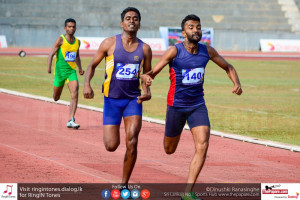 Topping the table of contenders, Light Infantry Sports Club came out with a stand out performance as they won fourteen gold medals, twenty five silver medals and nineteen bronze medals.
This athletic meet being the final selection hurdle for the Paralympics to be held in Rio during the latter part of the year, ended successfully with promising talent and an emphatic show of local talents with many war heroes which for sure would have given the selectors a nightmare to finalize their candidates.